About me
Name: Michael
Location: Nashville, TN
E-mail me!
View My Complete Profile
100 Things About Me
My Facebook Profile
My Wish List
Syndicate Big Orange Michael
The Latest News on the Vols
Also For Your Reading Pleasure
The Rocky Top Brigade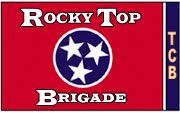 For Your Listening Pleasure (Podcasts)
Slice of SciFi
PodCulture
Two Insane Fans: The Statler and Waldorf of Doctor Who commentaries
Archives
04/01/2004 - 05/01/2004
05/01/2004 - 06/01/2004
06/01/2004 - 07/01/2004
07/01/2004 - 08/01/2004
08/01/2004 - 09/01/2004
09/01/2004 - 10/01/2004
10/01/2004 - 11/01/2004
11/01/2004 - 12/01/2004
12/01/2004 - 01/01/2005
01/01/2005 - 02/01/2005
02/01/2005 - 03/01/2005
03/01/2005 - 04/01/2005
04/01/2005 - 05/01/2005
05/01/2005 - 06/01/2005
06/01/2005 - 07/01/2005
07/01/2005 - 08/01/2005
08/01/2005 - 09/01/2005
09/01/2005 - 10/01/2005
10/01/2005 - 11/01/2005
11/01/2005 - 12/01/2005
12/01/2005 - 01/01/2006
01/01/2006 - 02/01/2006
02/01/2006 - 03/01/2006
03/01/2006 - 04/01/2006
04/01/2006 - 05/01/2006
05/01/2006 - 06/01/2006
06/01/2006 - 07/01/2006
07/01/2006 - 08/01/2006
08/01/2006 - 09/01/2006
09/01/2006 - 10/01/2006
10/01/2006 - 11/01/2006
11/01/2006 - 12/01/2006
12/01/2006 - 01/01/2007
01/01/2007 - 02/01/2007
02/01/2007 - 03/01/2007
03/01/2007 - 04/01/2007
04/01/2007 - 05/01/2007
05/01/2007 - 06/01/2007
06/01/2007 - 07/01/2007
07/01/2007 - 08/01/2007
08/01/2007 - 09/01/2007
09/01/2007 - 10/01/2007
10/01/2007 - 11/01/2007
11/01/2007 - 12/01/2007
12/01/2007 - 01/01/2008
01/01/2008 - 02/01/2008
02/01/2008 - 03/01/2008
03/01/2008 - 04/01/2008
04/01/2008 - 05/01/2008
05/01/2008 - 06/01/2008
06/01/2008 - 07/01/2008
07/01/2008 - 08/01/2008
08/01/2008 - 09/01/2008
09/01/2008 - 10/01/2008
10/01/2008 - 11/01/2008
11/01/2008 - 12/01/2008
12/01/2008 - 01/01/2009
01/01/2009 - 02/01/2009
02/01/2009 - 03/01/2009
03/01/2009 - 04/01/2009
04/01/2009 - 05/01/2009
05/01/2009 - 06/01/2009
06/01/2009 - 07/01/2009
07/01/2009 - 08/01/2009
08/01/2009 - 09/01/2009
09/01/2009 - 10/01/2009
10/01/2009 - 11/01/2009
11/01/2009 - 12/01/2009
12/01/2009 - 01/01/2010
01/01/2010 - 02/01/2010
02/01/2010 - 03/01/2010
03/01/2010 - 04/01/2010
04/01/2010 - 05/01/2010
05/01/2010 - 06/01/2010
06/01/2010 - 07/01/2010
07/01/2010 - 08/01/2010
08/01/2010 - 09/01/2010
09/01/2010 - 10/01/2010
10/01/2010 - 11/01/2010
11/01/2010 - 12/01/2010
12/01/2010 - 01/01/2011
01/01/2011 - 02/01/2011
02/01/2011 - 03/01/2011
03/01/2011 - 04/01/2011
04/01/2011 - 05/01/2011
05/01/2011 - 06/01/2011
06/01/2011 - 07/01/2011
07/01/2011 - 08/01/2011
08/01/2011 - 09/01/2011
09/01/2011 - 10/01/2011
10/01/2011 - 11/01/2011
11/01/2011 - 12/01/2011
12/01/2011 - 01/01/2012
01/01/2012 - 02/01/2012
02/01/2012 - 03/01/2012
03/01/2012 - 04/01/2012
04/01/2012 - 05/01/2012
05/01/2012 - 06/01/2012
06/01/2012 - 07/01/2012
07/01/2012 - 08/01/2012
08/01/2012 - 09/01/2012
09/01/2012 - 10/01/2012
08/01/2013 - 09/01/2013
10/01/2017 - 11/01/2017
11/01/2017 - 12/01/2017
Yesterday, I attended Nashville's very own bowl game, the Music City Bowl. I admit I bought tickets back before the UT/Vandy game when I had hopes of getting to pay only ten bucks to see the Vols play in a bowl game. Alas, UT lost to Vandy and my hopes of seeing my beloved Vols in person again this year were dashed, but I figured--you know, how often do you get to go to a college bowl game?
As big a college football fan as I am, I'd never been to a bowl game, though I've watche more than my fair share on television over the years. So, I figured why not give it a try.
I met up with my old friend, Rich and after putting a good dent in the Shoney's breakfast bar, we steered toward the Coliseum to watch Virginia take on Minnesota.
I have to admit it was a novel expereince for me--it was the first time I've ever gone to a college football game where I didn't have a dog in the hunt. I was hoping for a good game that would be entertaining and I have to admit--I got my money's worth. At first, it looked like the Golden Gophers would blow out UVA, but UVA put on quite the rally in the second half to take the lead with just over a minute to go and win the game. And we even upgraded our upper bowl seats to lower bowl seats at half-time...heck, the ushers were encouraging us to since the game wasn't sold out.
Which brings me to my point--come on Nashville! I know it's not exactly a national championship game but it's still a college bowl game in your city. And you know, it was pretty darn entertaining and fun to watch. And for ten bucks, how can you really go wrong? So many times I hear complaints at how much a game costs to go but here's an affordable opportunity many didn't take advantage of. I remember back in the day, my family lived close to where the Blue/Gray game was played. My dad got some inexpensive tickets and took me to the game. I remember Johnny Majors was the coach that day and my dad telling me great stories of Majors and how he was the coach for UT and what a good guy he was. I don't recall much of the game, but I do recall the fun afternoon with my dad out at a game. I hope that if I continue to live in Nashville and they continue to have the Music City Bowl and I'm blessed with kids someday that I can take them to the game and create some similar memories. At the very least, I hope to someday take Davis to the game and spend an afternoon with him, should he like football.
So, it was a good game and a nice way to start the New Year's weekend. Sure it wasn't my beloved Vols, but it was still two decent college football teams both playing it out. And it was fascinating to watch the fans for both schools, the marching bands and the various cheerleaders for both sides. I saw the Minnesota cheer squad take a few minutes to let a small kid (he must have been threee or four) onto the sidelines with them for some photos. He was dressed in a Golden Gopher outfit and watching it, I couldn't tell who was more eccstatic--the kid or his parents.
Good fun. I plan to go to the game next year and hope you'll make your plans to join me as well.
posted by
Unknown
at
12/31/2005 10:01:00 AM
|
|


Doctor Who

: The Christmas Invasion


2005 will go down in

Doctor Who

history for a couple of reasons. First, it was the year that

Doctor Who

made its triumphant return to TV screens across most of the world (it has yet to find a network to show it here in America, which is nothing short of a tragedy). And secondly, it's the first time that we've been introduced to not one but two Doctors in a calendar year. When the year began, we met Christopher Eccleston as the 9th Doctor. Now, as the year comes to a close, we're introduced to the 10th Doctor, played by David Tennant.

We're also given a first in

Doctor Who

history--a holiday-themed special event. It's not the first time the series has acknowledged Christmas--William Hartnell broke the 4th wall in the midst of the epic "The Dalek Masterplan" back in the 60s to wish the viewing audience at home a merry Christmas, but it is the first time the series has had a story that specifically takes place within the holiday season.

The story follows right on after the six minute Children in Need special, where we met the new Doctor and he convinced Rose that he was the Doctor. Now, had I not seen the six minute one-off special, I'd've been a bit confused as the story started.

The TARDIS rematerializes in London. Actually, more likes comes crashing down like a pinball off buildings in London. Unfortunately, Jackie and Mickey are within a 50 mile radius and come running to see if Rose is there. The new Doctor pops out, wishes them Merry Christmas and collapses. Rose comes out and confirms this is now the Doctor.

Meanwhile, the UK space program has sent up a probe to Mars. It's scheduled to send back pictures near Christmas day but instead encounters a large space ship. Harriet Jones is now fully installed as prime minister of the UK and heads down to consult UNIT on this problem.

Rose and Mickey go Christmas shopping where they are attacked by creatures dressed up like Santa. Rose and Mickey run home only to find Jackie has accepted a different Christmas tree into the apartment. Turns out this is some kind of spinning tree of death that proceeds to tear up the entire apartment. You know, I've got to say something here--after last year's World War III and now the lethal tree gone mad, Jackie's security deposit is pretty much gone. Rose gets the Doctor to wake up long enough to disarm the tree using the sonic screwdriver. He then sees the homicidal Santas, notes they are just the first wave and promptly passes out again.

Back with Harriet Jones, we find out that UNIT has better facilities but are still as inept as ever at actually preventing an alien invasion. They have no clue what to do when the aliens contact us, saying they've found the Earth and all humanity is now their cattle. Now, this is intriguing but its promptly not explored so we can have 17 more scenes of Rose staring at the unconsious Doctor and crying--becuase don't forget, it's her show. The new aliens, called the Sycrorax are able to possess one third of the population who have A positive blood--seems that some genius over at the UK space institute sent up a vial of blood with A postive in it, thus helping the Sycroax take these people over. The Sycroax send the people all up to high places to jump (in one of the really chiling scenes, we see people lined up all across the globe, ready to jump) and demand Earth's surrender.

Harriet Jones decides to speak for Earth and refuses. She asks if anyone's seen the Doctor, heard for the Doctor or could call the Doctor. Apparently UNIT has moth-balled the signalling device the Doctor gave the Brigadier back in the day and no one can. She then asks about Torchwood, which sets up hints about this future spin-off to come this summer. Seems Torchwood is unprepared but can get ready quickly, should they be needed. Apparently the huge alien ship and people possessed by aliens weren't clues they might be needed. Jones goes on TV, begging for the Doctor to come and save Earth.

But, he's still asleep. He mutters at one point he needs something but can't get out what it is. Seeing the ships over London, Rose gets the Doctor into the TARDIS. Jackie brings along a picnic lunch. (This will be important later).

So, Harriet Jones gets beamed up to the Sycorax ship where two of her advisors are killed. Meanwhile, in the TARDIS, Rose uses some system that alerts the Sycroax to the TARDIS. Its' beamed on board and Rose steps out...as she is now the representative for Earth (again, it's all about Rose). Before she leaves, she spills some tea on the floor, which seeps through and starts to vaporize. The vapor swirls around the Doctor. (This is one of many little homages to Hitchhiker's Guide to the Galaxy, including the Doctor wandering about in a robe and jammies, saying it's perfectly "Arthur Dent" of him)

Outside, Rose is throwing in every alien name she knows to try and get the Sycroax to back down and leave. They laugh, mocking her. But slowly, she begins to understand them....and realizes the Doctor is back on his feet. (Before this, they had to translate everything.) The Doctor emerges from the TARDIS. He reveals that the blood control device is pretty ineffective and overrides it. He takes on the Sycorax leader in a sword fight, losing a hand but it grows back since it's only been 15 hours since his regeneration. He defeats the leader, tells the Sycorax to pack up and go home, telling everyone that Earth has a defender and he will not allow an invasion. They do but as they head out, Harriet Jones orders Torchwood to fire on the Sycorax ship, destroying it. The Doctor is furious and says six words to her advisor to bring down her regime--Don't you think she looks tired?

Confidence erodes in Jones, who as the episode concludes we hear reports of facing harsh criticism and looking tired. The Doctor chooses a new outfit, they all celebrate Christmas and the Doctor and Rose head back out for more adventures.

Now, despite my snarky review, I have to admit I liked the episode. It wasn't as great as last year's Dalek, but it was fun episode. I'm glad we got a longer than usual story, though the first half does drag a bit. We spend an awful lot of time with the Doctor on the sidelines and, as usual, any scene with Mickey and Jackie in it just drags. I will give Russell T. Davies credit--Mickey is actually tolerable at points in the story, though the whole concept that he's still pining for Rose and comes running the second she comes home is getting a bit old.

In fact, the scenes with Harriet Jones at UNIT HQ and her pleas for help are great. Her call for the Doctor's help echoes the scene in Superman II where the president begs Superman to come and help defeat Zod. It's a stark contrast to the Rose and her family scenes that really do seem to bog down quickly.

The episode picks up once the Doctor fully recovers. David Tennant steps up and owns the role quickly. The final fifteen or so minutes fly by as the Doctor trades barbs with various people, tries to figure out who he is now and defeats the aliens. It's almost Tom Baker like in the fact that Tennant approaches the aliens with no sign of fear. he shows respect, but he is clearly the one in control of the situation. We see a bit of the dark tinges to the Doctor that we say in McCoy and Eccelston, which is nice. But there's a child-like delight and wonder to the new Doctor that was missing from the last one. You get the feeling having defeated the Daleks and maybe having that burden lifted that the Doctor might have a new lease on life. It will be interesting to see how and where the character goes and what other stamps Tennant puts on the role. But you can tell the man is having a ball in the role and that he's living his dream of playing the Doctor.

For what it is, "The Christmas Invasion" is a lot of fun. It's a fun holiday treat and while I've heard some proclaim it's the best hour of TV this year, I wouldn't quite go that far. It's good and it may be one of Russell T. Davies finest hours as a writer on

Doctor Who

but it's not on the same level as "Empty Child" or "Dalek". As with other Davies stories, it suffers from having a lot of good ideas that are brought up and then summarily dropped four scenes later. Also, it's interesting that we have references back to the previous series but not to the overall history of the show. For example, in the 70s, the UK sent probes to Mars in the Pertwee era, though this is never addressed (one line could easily take care of this). We do get UNIT, so it's almost as if Davies gets the big picture but misses the details that make the tapestry of

Doctor Who

so rich and vibrant.

It's not the best TV I've seen all year, but it's an enjoyable, fun adventure. It's exactly what it set out to be--a nice diversion for the Christmas season.

And it's also made me eager for the new series to start up again in March.

Though, let me say this--please, let's give David Tennant his own opening credits seuqence and not just recycle the previous one...

posted by Unknown at 12/29/2005 01:21:00 PM | |


I'm a bit worried that my status as a Nashville blogger may be revoked when you read these next two statements. The first is, before yesterday, I'd never had a meal at the Rainforest Cafe. The other is that despite several attempts to do so, I've still not seen

Walk the Line

yet. (I know, I know..it's my own private shame and I'm trying to deal with it.)

Now, I've lived in the Nashville area for close to two years now and while I've been wanting to try the Rainforest Cafe for some time, I'd heard some horror stories about it from fellow Nashvillians. But my good freinds, Barry, Laura, BrainyBoy and Tink were coming through town yesterday on their way from outer Siberia to Knoxville, so we made plans to meet up at the world-famous Opry Mills for lunch at the Cafe.

Being the Nashville native and since I decided to be a slacker and take a day off work, I arrived at the Mills early--about 11 a.m. We were scheduled to meet up at 11:30 a.m. and I went and stood in line to get a reservation time. Again--why am I the only person on earth who thinks I will have this idea? I waited behind several thousand people (more like four or five, but it was hard to tell since each party had, at least 17 children) and finally got up to the reservation stand around 11:15. I put our name in the hat and found out--it'd be a little over an hour wait. I sighed but figured--hey, it'd all be worth it. Little did I know that the gang from Inn of the Last Home were members of the super-deluxe go to the front of the line, do not pass Go, do not collect $200 club. They got there, flashed the card and it was like we were some kind of royalty as we got immediate seating.

And not just any seating. We got the table between the two elephants. Which was pretty cool until I realized that where I was sitting, I am now in at least 20 or so people's pictures near the elephants. Thankfully, I was with polite company so I wasn't picking my nose or anything like that.

Anyway, we got seated and then waited. For about 20 minutes. Staring at the menus, making polite conversation and trying to look desparately thirsty enough to entice some server into our area. Apparently our area was a de-waiter-ized zone during this time while the elephants and gorillas negotiated a treaty or something. Finally, after Laura said something, our server came over, apologizing that the computer system was having issues. He took our drink orders and apparently the negotiations with the elephants and gorillas hit a snag on the monkey access rights because it took another 10 or so minutes for our drinks to show up and to take our orders.

At this point, it was mildly annoying, but you could chalk it up to one of those days and not worry. And on the good side, sitting there we got to soak in the atmosphere more and I was having lunch with some good friend who I don't get to see as much as I'd like. So, about the company and atmosphere, I have no complaints.

Finally about 25 or so minutes later, the waiter comes by. Oh yeah, did he mention that that there was some snafu putting our orders in and that they were just now being put in. He said this casually like it was some natural thing like--hey, that sky sure is blue today. Guess he hoped he's slip it in there and we'd not notice. The manager came over and apologized as well and once again brought up the computer error. Which, ya know, I am not sure how the kitchen runs there but I'm not sure the computer was that big a culprit. Seriously, I was beginning to think George W. might stop by the table and tell us the faulty intellignece on Iraq was the fault of the Rainforest Cafe's computer system malfunctions.

We did finally get out food, which mine was delicious. I enjoyed the meal and by the time we started eating, we were on our third thunder storm of the meal. Now, since Barry, Laura and company are members of the super deluxe club, they had coupons galore for Rainforest. I think this defeated the comp desert the manager was giving out to other tables for the glitch since they had a coupon for a free desert. In the end, the Inn of the Last Home crew got a 10% discount and I got to use one of their coupons on the meal. And we all got a free volcano which was pretty tasty.

But, that said, it didn't really make up for the poor service. At one point, I joked to Barry that I expected the TARDIS to fly out of the time vortex that our server got lost in every time he went near the kitchen. He'd disappear for long periods of time, never to be seen or heard from. And, when Laura spoke to the manager, it seemed as if the manager wasn't exactly too worried about doing something to make the experience right or better for us. I understand she was exasperated by the day, but it felt like, in the end, she could have done more. I mean 10% off the meal of the Inn of the Last Home crew was what they'd get anyway because they had the card. So, it's not like she want above and beyond to turn a negative into a positive for us.

In the end, I walked out of the Rainforest Cafe, with a lunch that took just over two hours and with the feeling of great atmosphere, great company, good food, poor, close to pitiful service.

posted by Unknown at 12/29/2005 08:02:00 AM | |


It seems as if everyone is posting lists of the best TV shows on 2005. But as I read them, I couldn't agree with many of them since a few notable shows were missing. So, here's my list of the best 2005 had to offer...

1.

Veronica Mars


2.

Battlestar Galactica


3.

Doctor Who


4.

Lost


5.

Arrested Development


6.

Scrubs


7.

House


8. Gilmore Girls
9. 24
10.

Two and a Half Men



Shows that I'm catching up on but could be on the list next year: The Shield, Rescue Me


posted by Unknown at 12/29/2005 08:00:00 AM | |


Sometimes when I'm waiting in line at Wal-Mart or Kroger, I will often glance around at the various magazines and tabloids they have on display. Depending on how many people are in front of me and how adept they are at having their items rung up and then paying for them, I often find a good bit of time to scan the covers of the various periodicals for sale there.

Usually after having a good chuckle over the antics of the bat-boy that was found living in a cave somewhere in central Utah or that Elvis is working in a truck-stop outside of Phoenix, my eyes will drift across the plethora of magazines there that can tell me everything from what's coming up on TV that week to how to lose eight pounds in three days by eating only pinto beans.

When I was at UT, one of the classes I took was on writing for magazines. One of the interesting tid-bits that we learned that a lot of magazines are impulse buys and, for the most, you have an average of five to eight seconds to catch the consumer's attention and get him or her to take the magazine off the shelf and put into the cart or on the conveyor belt. I often think of this fact when I'm standing in line, looking at the various covers and how they're all trying to entice me in that five to eight seconds they have to go from shelf to cart or conveyor belt.

One of the most common magazines that is featured near the check-out counter is

Cosmo.

I remember a few years ago, a friend of mine (who is female) bought an issue so we could mock the articles in it. As near as I can determine,

Cosmo

is the female equivalent of Maxim...only instead of having guys on the cover, it features a different actress or female celebrity on the cover each month. One thing that has always struck me about Cosmo is that the person on the cover looks familiar, but sometimes it takes a second glance to figure out who it is. And sometimes they look radically different on the cover of Cosmo than they do on the hit show or movie they're part of.

Now, this isn't the kind of thing that keeps me lying awake at night...but it was something that crossed my mind now and then in the check-out line.

A few days ago, I came across a link that addressed this issue. It's an on-line demo that shows how a picture is manipulated via PhotoShop to make the model appear "hotter." It's interesting and definitely worth a look.

I found this interesting for two reasons. One is to see the subtle and not so subtle manipulation of the image to somehow come up to some virtually unattainable standard of female beauty we're all supposed to have. The other is in light of an argument I saw posted on the TrekBBS about the Princess Leia in the bikini web site I linked to the other day. If you dig around the web site, you can find females who have made their own copy of the infamous outfit and have photos posted there.

An interseting debate was set off when one poster said the women were not hot enough, thus sparking off the debate of--well, these are "real" women and not super models or PhotoShopped images that are out on the 'Net.

It's an interesting debate and one that I've brought up before. I wish I could say I'd been terribly enlightened since the first time I brought this subject up. But I'm not any more enlightened now than I was then. But I do find all of this terribly fascinating--and not just because it's about beautiful women or our definition of what makes a woman beautiful.

I do know one thing though...I am fortunate to know a few women, none of whom look anything like the models featured in those magazines. But I find them more beautiful than that. I have a friend who was given the gift and ability to sing. I've heard her sing a few time (she was the back-up for Clay Aiken when he was here the GEK a few weeks ago) and every time I hear her sing, it only further underscores what I already know--this woman is beautiful. Not just her singing but her personality, her spirit, everything. I am fortunate that I know a lot of women like that...and I will also admit I'm thankful that women are not nearly as shallow as we men can be. That they see beyond our male imperfections and find us reasonably attractive as well and give us the time of day. I mean, I know I've got six pack abs--they're just in a cooler!

posted by Unknown at 12/27/2005 02:37:00 PM | |


Yesterday, I ran into Wal-Mart to pick up a couple of things. I needed bread for lunches this week and my brother-in-law's b'day is today. Weeks ago, I'd promised my sister I'd get him

Episode III

on DVD in the widescreen edition (seriously, if you're buying pan and scan DVDs, give your DVD player back! You are missing the point here!). A couple of years ago, he got a copy of

X2

for Christmas and before he noticed that it was pan and scan, he'd opened it. He's still not happy about that decision (not that I blame him).

Becuase Wal-Mart has that we'll beat any competitors advertised lowest price, I took the Best Buy ad in with me. I went to electronics, got the DVD, went through the line and politely asked if the policy was in effect and then paid for my discounted purchase (I'd purchased the DVD weeks ago from Sam's but will take it back since I saved some $$$ on it yesterday). After that, I wandered through Wal-Mart, picking up the items I needed for the week and a few others that were on clearance that just begged to go home with me.

I then got to the lines. They were pretty long. Apparently, I labored under the delusion that I was the only person on the planet who thought--hey, let's go to Wal-Mart today. I labor under this delusion a lot since I'm constantly surprised when I go somewhere and it's crowded--well, unless it's Neyland Stadium and you can understand why it's crowded since it is God's house. But I digress.

I thought--maybe self-checkout will be quicker. So, I steered over that way, took a place in the apparently shortest line and waited my turn. Now, off to my right was a man and what appeared to be his family. You could tell that he wasn't thrilled about being here because he was talking loudly and rudely to any and all of his family members. He got up to his self check out register and started to ring up his purchases. He scanned his three items and then swiped the gift card he's received. Apparently, he had returned the same three exact items and figured he's get an even exchange. Well, the system told him he owed another dollar or two, at which point he went postal.

"I am not going to pay this damn store another two dollars for the same damn items," he said. He pointed at the screen. "Do you see that? Why should I pay them two dollars more for the same three items?" He was talking loudly to anyone who would listen. I glanced back to see the people in line behind him rolling their eyes and getting that look of "Great, I'm stuck in line behind THIS guy!"

He then grabbed his purchases and stalked over to attendant for the self-scan area. I watched as he walked up to her and started screaming at her about how he was not going to pay two more dollars and he wanted an explanation right now of just why the total was different now and what she was going to do it about it right then. She opened her mouth to say something and he went off more, screaming for a manager because the attendant hadn't done anything to help him yet. (As if she could have got a word in edge-wise).

Around him, his family (esp. the teen and pre-teen looking kids) were all looking around, desparately hoping that a giant hole would open up in the floor so they could dive into it and finish dying of embarrassment. As I rang up my purchases, the manager came out and he started into his tirade again. I needed some assistance and the attendant made the mistake of acknowledging that I needed help and came over to assist me.

This set the guy off more.

"I'm not sure what he wants me to do about it," she told me. "I can't get a word in edgewise to help him."

I smiled, said I thought she was being far more gracious than I would have been under the circumstances and thanked her for help.

"Well, I'm not going to deal with him anymore," she replied. "The manager is here and she gets paid a lot of money to deal with these situations."

Meanwhile, guy is having the manager scan again every item he has and showing him how it all adds up to the new total.

Now, I wish I could tell you how all this was resolved. But since my purchases were made and the transaction complete, I left the store and went about the rest of my day. For all I know, the guy is still there, screaming to the rafters about not paying the two dollars and making sure anyone who comes into the Wal-Mart know he's not happy...

posted by Unknown at 12/27/2005 07:56:00 AM | |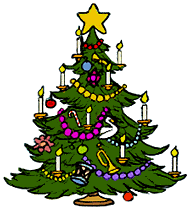 Well, it's almost the big day! Not sure if I'll have time to get any posting done tomorrow or on the big day. So, I figured I'd take a moment now to wish all of you and your families a blessed and merry Christmas!

Hope Santa brings you what you asked for and that no one gets coal in their stocking!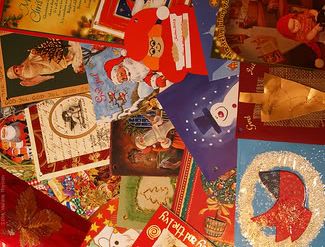 I am posting this because I wanted to send cards to everyone, but didn't...



posted by Unknown at 12/23/2005 03:02:00 PM | |


Web sites like this one are why the Internet is a wonderful, wonderful thing.

Come on--admit it guys, a lot of us were really warped at a fragile age by the image of Leia in the metal bikini....

posted by Unknown at 12/23/2005 02:17:00 PM | |


There's been quite a furor raised over what exactly the name of the decorated evergreen should be in relation to this time of the year. Should we call it a Christmas tree or a holiday tree? If we call it a Christmas tree, do we run the risk of offending those who aren't Christians and if we call it a holiday tree, do we run the risk of really ticking off the Christian crowd?

Seems to me that all this debate over what to call the decorated evergreen really goes back to the old question of political correctness.

Now, don't get me wrong here. I think that being sensitive to your fellow human being is a good thing and certainly there are some words in the lexicon that have conotations and meanings that it's best if they're left out of polite conversation from now until the end of time (I still get upset when I'm called a Trekkie becuase dammit, I'm a Trekker, thank you! Do NOT make me spend four posts explaining the differences). But there are times when it comes to political correctness that it borders on the absurd to me and seeming to miss the whole point of the thing to start with.

A few years ago, a lot of copies of the books

Politically Correct Bedtime Stories

and

Politically Correct Holiday Stories

were sold. I admit I read both and found them fairly amusing. They were both good satires of political correctness take to the extreme.

But, for me, the best satire of taking political correctness too far comes not from recent times, but actually from the old time radio days.

I love old radio shows--esp. old radio comedies. To listen to and hear the evolution of the situational comedy that we know and love today is fascinating to me and I admit I find the shows from yesteryear entertaining and timeless in a way that few sitcoms are today. It's also interesting to hear their version of re-runs. They didn't really repeat entire shows so much as they'd do routines over and over again, but in different shows. So, you can listen to

Abbott and Costell

o and hear them include the famous Who's On First routine in the storyline about once a season or so. (It's easy to pick out..generally they start out with something related to baseball).

Because of the lack of repeats, per se, during hiatuses of shows (generally the summer time), they would bring in other performers to have a show in that time slot. In the summer of 1957, the popular Jack Benny program went off the air and in its place, comedian Stan Freberg was given a 13-week run. Now, many of you may not have heard of Stan Freberg per se...at least you may not recgonize his name. I was in the same boat a few years ago when I first heard his show, which was funny, witty and virtually timeless. Freberg was a satirist who produced a lot of records on the 50s and 60s that were skits. He did a couple of Dragnet parodies that were popular and he also was in Green Christmas, a skit that is included on some of the novelty Christmas CDs that float around out there.

Freberg's show featured himself and some big-name comedy talents such as Daws Bulter (Mr Howell from Gilligan's Island) and June Foray (the voice of Rocky the Flying Squirrel).

Freberg's show only ran one summer season, which is a shame really. It was great stuff and it holds up well.

But back to my point.

In the sixth episode, a censor from the citizen's radio board review has stopped by to OK all the material used on the program. The censor decides that he will sit back and use a buzzer whenever Freberg goes too far off track and might say something that could be taken as offensive. Stan reluctantly agrees and launches into his rendition of Old Man River "in honor of national Mississippi River Boat paddlewheel week."

Freberg barely makes it out the censor introducing himself before he's getting buzzed. The censor buzzes him for not saying thank you and being a good example to the children at home.

Sneedly (The Censor) : You forgot to say thank you, Mr. Freberg. Politeness is an essential in radio programming. Your program goes into the home..it must be a good influence on...children.
Freberg then luanches into the song, which he makes it about two words in and the buzzer sounds. The use of the word "old" has a "contation some of the more elderly people find distateful." Stan is asked to substitute the word elderly. He does and starts again...only to have every grammar mistake used by song buzzed and he can't say the word "sweat" either.

Finally, in frustration Stan gives up, saying Sneedly has won and stops trying to sing the song. (If you want to hear the whole skit, I dropped the show into my libsyn podcast feed...you can hear it here. And don't get worried about it...the copyright expired on the show years ago so I can distribute it this way and not get sued!)

It's an amusing skit, but it does, at least, to me point out the potential pitfalls of political correctedness gone wrong. It's one thing to remove words or images that could be offensive, but what I may not find offensive, you may find horribly offensive. Also, if you go in and correct everything, do you ruin some of the power of the original thing? For example, I know some schools that ban the reading of the American classic Huckleberry Finn because of certain words used in the novel. Now, I am not saying they should or should not be used, but what I do argue is that novel is a reflection of the time it was written and should be read that way.

Does this mean you should run about saying the word or quoting passages that use the particular word? No, not really. But I think that we should be allowed to read it and also made aware of the context of how and when the book was written. Because, let's face it, it's a great book and one that I think everyone should read at least once in his or her lifetime.

And again, I find myself thinking that political correctness can go too far--as we see in the Freberg sketch. We can't correct the past but we can work on the future. Indeed, I wonder if at times the argument over what is and is not acceptable speech sometimes does more to tear us apart than bring us together.

Sort of like this whole what do we call the decorated evergreen debate. I can see both sides of the argument, but it seems as instead of being a time of year when we celebrate peace on earth and goodwill toward all people, we're too busy lining up to debate about what to call the tree. In all this rhetoric, we're losing track of what this season is really all about...

And that's the biggest shame of all.

posted by Unknown at 12/23/2005 01:17:00 PM | |


The 2005 50 Book Challenge is coming to an end and I'm gearing up for the 2006 50 Book Challenge (woo-hoo, new Stephen King and a new Peter David

New Frontier

novel in the first quarter of the year!). Here are the books I've read since the last update--some with comments, some without.

114.

Blue Like Jazz

by Donald Miller

Boy meets God, boy loses God, boy finds God again is the basic overview of this book. But it's so much more than that. The raw, real and compulsively readable story of Miller's journey in the faith is one of the best books I've read this year, if not ever. I cannot recommend it enough to you. Miller gets beyond making Christianity just a "follow these rules and have a better life" mentality and gets into the heart and soul of what it means to be a Christian. He addresses all aspects of life in this book and does so with wit, charm and intelligence. This is one of those books that I have a feeling I will re-read (along with its companion book

Searching for God Knows What

) many times in the years to come.

115.

Dies the Fire

by S.M. Stirling

Advertised as an alternative history but more of a "what if" novel. What if somehow the ability to generate any kind of artificial power suddenly went away? This includes the ability of things such as the internal combustion engine to run. What would happen to the world? Intriguing premise that is brought down by a group of rather stock characters who all labor toward a predictable end-point. If you've read any other sci-fi disaster type book, you know where it's all headed in the first third of the book. Not that it makes it a bad book mind you, but I wish Stirling had done something less conventional with it.

116.

Accelerando

by Charles Stross

In just three books, Charles Stross has jumped onto my short list of must read authors for any book that comes out. His science-fiction gets nominated for high awards--I expect this one will do the same.

117.

The Lighthouse

by P.D. James

James' latest Dagliesh novel is a homage to the Agatha Christie isolated location scenario. Person gets murdered and everyone in a remote location with little access to the outside world has a motive and possible opportunity to commit the crime. It works fairly well, though James' story is infused with a bit more pyschological drama than most of Christie's works.

118.

The Lincoln Lawyer

by Michael Connelly

After the dissappointing

The Narrows

, Connelly roars back with a book that is compelling, readable and one of the more entertaining popular fiction books I've read this year. It's not part of an on-going series like the Bosch novels and it's a perfect starting point if you keep seeing Conelly's name in the bookstore and wonder what all the fuss is about. It's the story of a laywer, brought in to defend a rich client who is accused of beating up a woman he met in a bar and took home. But as the layers are peeled back, we discover that there is more to this than meets the eye and it could be connected to another case our hero defended. It's one of those connections that could be eye-rollingly bad if not handled well and Connelly handles it extremely well. If you're looking for a good off from work holidays read, this is a good choice.

119.

Fool Moon

by Jim Butcher
120.

Star Wars: Dark Lord

- The Rise of Darth Vader by James Luceno

I wanted to like this

Star Wars

novel--I really, really did. Taking place between episodes III and IV, it promised to tell us the story of how Anakin went from sulky guy in a suit to the baddest villain in all the galaxy. Instead what we get is a book that introduces us to a bunch of nameless Jedi who we could care less about since they're all gonna be red-shirted by books end and a lot of throwing in names of passing characters from episode three in an attempt to say--wow, aren't we cool fanboys?!? There were parts of this novel I did like--such as Anakin's reactions to being Vader and becoming comfortable in the suit as it were. And the Emperor's pulling of strings not only politically but emotionally for Vader are nicely done. But these are scattered through pages of tedious character development and backstory for Jedis we've never seen before and most of whom are toast by book's end. A major disappointment.

121.

Mindscan

by Robert Sawyer

Sawyer asks--what is identity in this novel set in the near future. The premise is that scientists have found a way to map the human brain and create a copy of the mind. So, if you've got a health risk or are getting older, you can have a copy made and downloaded into a new synthetic body while the original you goes to the moon to live out your remaining days. Our hero is a younger man who suffers a condition that could cause him to have a stroke at any time, so he elects for this procedure. Sawyer juxtaposes first-person narration from the organic narrator to the cloned narrator seamlessly. He brings up the idea of what is a soul and when does life begin and end. But it's not a preachy book, though at times Sawyers politics are fairly transparent. Like a good episode of

Picket Fences

, the story presents many sides to an arguement and then has Sawyer express what he thinks is the best argument without demeaning or belitting the other side. It's an interesting book and far more enjoyable that some of Sawyer's other work I've read--for which he's won awards. This could be one that will garner award buzz next year.

122.

S is for Silence

by Sue Grafton

After 19 books in the Kinsey Milhone alphabet series, Grafton shakes up the formula a bit. Kinsey is asked by Daisy to look into the disappearance of her mother on July 4, 1953. Seems that Violet (Daisy's mom) left town in her new Chevy Bel-Air with her new puppy and has never been heard from again. Violet had a temptous relationship with Daisy's father and the father was the prime suspect that Violet met with foul play, but nothing could ever be proven. Daisy wants closure now and hires Kinsey to find out what happened. Grafton peppers the Kinsey timeline with flashbacks to the time with Violet dissappeared so we, the reader, get a full picture of what happened and how just about everyone in town had motive to off Violet. Seems that Violet burned a few bridges and used her sexuality to get whatever she wanted, whenever she wanted it. The book clips along at a good pace, though in looking back, I think Kinsey becomes aware of details that are presented only in the flashbacks but she never directly finds out in the course of her investigation. The mystery is interesting enough, until Grafton suddenly decides to wrap things up in 20 pages and ties it all up--a bit too neatly and not at all convincingly. Part of what makes an on-going mystery series like this fun is that every year or so, we get to check in our detective heroes and find out what's going on in their lives. And that happened in the other books in this series. Not so much here. Very little is made of Kinsey's non-detective life and we get no time with the supporting cast we've come to know and love.

posted by Unknown at 12/23/2005 07:23:00 AM | |


Last night, the youth choir from the Catholic church nearby braved the cold and visited my neighborhood Christmas carolling. It brought back memories of my days in youth group and the carolling party we had each year, where we went out and sang to those who were shut-ins from the church.

There are times when I feel very fortunate. Growing up with my father in the military, I've lived a lot of places and celebrated Christmas day all across the U.S. I've been to the beach on Christmas in Hawaii and I've seen a white Christmas in my time.

My parent's tree is almost a travelogue of our adventures. We have all kinds of ornaments from our various travels as a family...many of them with stories. Of course, we also still have all those ones I made as a child, which my mom loves and I try to hang as far back on the tree and out of sight as possible....

posted by Unknown at 12/22/2005 03:26:00 PM | |


In case you've been just got back from a deep space exploration mission and missed it--the season finale of

Nip/Tuck

aired last night. In it, the season-and-a-half long mystery of the identity of the Carver was revealed....

Now, I'm warning you--if you've TiVoed or taped the episodes from last night and don't want to know, I suggest you turn back now. I'm going to talk about the episodes and give away who the Carver is....

You have been warned.

OK, I'll admit that I'm a sporadic

Nip/Tuck

viewer. It's a show that is generally entertaining when I tune in but it's not appointment TV for me like

Lost, Veronica Mars

or

Battlestar Galactica

. But with all the hype around the identity of the serial slasher the Carver swirling over the past few weeks, I have to admit the show did demand some attention.

Honestly, the most fascinating part of the "who is the Carver?" circus was the intesne speculation surrounding his or her identity. In the day and age when we can read entire scripts of shows or movies on-line before they ever air or open in theaters, for the show to keep this under wraps up until the big reveal is a major success for F/X. Or maybe it was just that I didn't look hard enough to find the SPOILERS. (Though I do hear some one at F/X accidentally linked photos that revealed the identity of the Carvre yesterday though the pictures were quickly removed.)

So, onto the identities of the Carver. So, as has been speculated for weeks on end, it turns out the Carver is not one but two people working in tandem together. Also of interest is that both culprits attacked each other at some point this season to throw suspicion of themselves. Interesting and a nicely done red herring, though it does raise some question. So, if Kit is Quintin's sister why does she seem so shocked by the big reveal of Quintin to end the first part of the two-part finale last night? Of course, I guess if she shows no reaction, it gives the game away half an hour early.

I will give the finale credit--it did manage to take just about everyone that the on-line community has been speculation is the Carver and make them a suspect. I knew when they came in to arrest Liz in surgery that this was a big red herring but it's nice to see the show address all the red herrings. It kind of reminded me of

Star Trek II

, where the rumors got out that Spock would die, so the producers had the entire crew "die" in the first ten minutes and you could then relax, figuring the leaks were wrong, only to be stunned when Spock actually does shuffle off this mortal coil in the final reel. By having every one who could be the Carver either put under the microscope and either acquitted or attacked made a lot of sense in mis-directing us from who the Carver was.

And then comes the big reveal. No huge shock that Quintin was the Carver. But the twist is--he's not working alone. He's got a sister who's working with him and it turns out to be Kit. Apparently, Kit and Quintin's parents were extremely closely related, resulting in some genetic defects for both. (I won't get into them too much here as this is a family blog, despite my cussin' earlier this week.) Now, I have to admit being the viewer that I am, when Kit came in and shot Quintin before Christian could cut off his own hand, I figured something more had to be up. Why? Well, because that happened at least 15 minutes before the end of the show. You can't leave that much time and not have another huge twist coming. So, I figured--maybe she's in on it as well, though the idea didn't occur to me how she and Quintin were connected until the story revealed itself.

And, in the end, Quintin and Kit get away and we assume are ready to continue their crimes.

But there were some unanswered questions. I get sort of why they targeted Sean and Christian, but a bit more of an explanation might have worked. Or maybe it'd have been too trite to try and connect them. But it does seem as if the Carver(s) were unusually fascinated by these two and went to extreme lenghts to torture them. Also, how did Quintin get the mask into the recovery room? Did he leave it there from when he was working for the guys? Did he leave Carver suits around in case he needed to don his secret identity at any time?

Of course, I'm speculating and nitpicking on small details. Which is pretty much par for the coruse around here.

That said, I have to admit the resolution of this mystery worked pretty well. It wasn't quite the shock that F/X made it out to be simply because the prime candidate to be the bad guy turned out to be the bad guy. But in looking at the evidence from on-screen and throughout the season, the solution to the mystery was the only that made sense when you sat back and considered the evidence. And while that may not always be the most suprising and shocking way to go, it can often be the most satisfying.

posted by Unknown at 12/21/2005 07:38:00 AM | |


Stacy over at Outwit, Outblog, Outsnark would have us believe that come this Saturday, she's closing up shop. Yeah, right, I say. And Stephen King "retired" from publishing--oh wait, he's got a new book coming out in January. (And yes, I already have it on reserve, thank you!)

But before she "closes up shop" Stacy is running her annual Mad Libs Christmas Carol event. And yesterday was my day to play. Surf on over to read all about Rudolph the Red-Nosed Wolverine.

As if that weren't enough, Shatner makes a cameo....

posted by Unknown at 12/20/2005 03:40:00 PM | |


While having lunch with John from Salem's Lot the other day and discussing the greatness that is

Veronica Mars

, a nasty thought struck me. Here in Nashville, the home for Jefferson Pilot SEC basketball games on Wednesday evenings and Saturday afternoons in none other than our local UPN affiliate. I'll let that sink in for a minute....

Yes, looks like in January, we'll have to wait until Saturday to see the latest episodes of

Veronica Mars

.

To quote the little guy from the end of all Mutant Enemy shows, "Grrrr! Argh!"

But so as to not be a total Grinch, here's an interview with

VM

's show runner, Rob Thomas. He offers some hints about where the show will go when it comes back from hiatus in a few weeks.

posted by Unknown at 12/20/2005 08:36:00 AM | |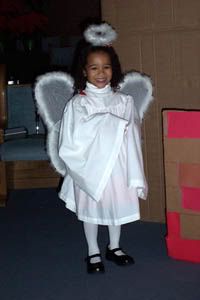 My neice as an angel for the children's Christmas pagent


As a proud uncle I have to say that my neice is, officially, the cutest angel EVER. Now, I may be a bit biased here, but honestly I don't think so. How can you look at that picture above and not see how cute and adorable she is?!?

She took part in the children's Christmas pagent last night at church as one of the the multititude of angels. My nephew, Davis is still about a year away from his theatrical debut as a shepard, but that should come next year.

The children's Christmas pagent is always one of those things of organized chaos. I love watching the kids shuffle on and off stage, singing a couple of choruses of

Away In A Manager

and seeing kids wave to parents while about a billion cameras go off, recording these moments. I have a lot of respect for those who organize it--working with the kids for the weeks leading up to it and having the patience with them through the whole process. It takes a lot of hard work.

On Saturday evening, I babysit Gracelyn and Davis. A church I visited a few weeks ago was having a living nativity done by the youth of the church. We all hopped into the van and went to see it. I was happy that halfway to the living nativity, Davis lost interet in his Bob the Builder DVD box and suddenly said, "See baby Jesus now?"

We got there and piled out. Grandma and Grandpa met us there to help corral small people (they are quick and wily) and we all went to look at the scene. Both kids enjoyed it and couldn't stop talking about it, though Gracelyn was a bit annoyed that baby Jesus was played by a doll and not a real baby. On the way back to the van, Davis said, "Bye-bye, baby Jesus" which Uncle Michael found really adorable. (Guess you had to be there...)

There is another opportunity to for a living nativity taking place this week in Smyrna. It's at Stones River Baptist on Sam Ridley. I saw this live nativity last year and it nearly caused me to drive off the road. Driving past, I saw the stable scene and I saw there was a camel and a donkey and other assorted barnyard critters out. I thought to myself--those are some really realistic looking wooden cut outs of animals until the camel moved its head. At this point, I nearly drove off the road as I did a double take and went, "Holy cow! Those are real animals!"

I'm sure Progressive would've loved the paperwork on that one....

posted by Unknown at 12/19/2005 01:33:00 PM | |


Yesterday, I was watching some of the Titans/Seahawks game and I kept seeing the Colts/Chargers score scrolling across the screen (how did we ever live in the days before we had up the second scores of other games...I just don't remember but it must have been the Dark Ages).

I've got a few things to say.

First of all, I wish the Colts had won. It was a good story and I want to see Peyton Manning do well since he's a graduate of the greatest university on earth, the University of Tennessee. Another reason I wanted to see the Colts continue this streak is I'm sick and tired of hearing about the '72 Dolphins. I'm sorry, but I'm sick of a bunch of old coots who get all excited and pop champagne every year when the last undefeated team goes down in flames. I realize that what you did was impressive, but could we maybe show some sportsmanship? Maybe could you embrace another team doing something similiar to what you did and enjoying that? I'd almost root for the Cowboys to go undefeated should that ever happen if it would make you guys shut the hell up and stop acting like a bunch of rotten sports and spoiled children.

Next up, to the NFL--your rules for broadcasting games in a home market are stupid. Would it have killed anyone in middle Tennessee to have the option to flip over and see the Colts vs Charagers on CBS for the game of the day yesterday rather than the second rate game of the Lions vs the Bengals at 3:00? I don't think so. I understand that the rules are there to protect teams in cities where games might not sell-out, but hey--we're not Arizona fans here. So, couldn't we at least get a game opposite the Titans game that has a national, compelling storyline behind or at least one where we could see highlights? I mean, since the Titans game was on FOX, we got no clips of how the Colts game was going. I'd like to at least have the chance to see this bid at history and surely the NFL could see that maybe bending the rules a bit in this special circumstance would be better for everyone.

Thirdly, I just loved how the national media is jumping off the Colts bandwagon and back onto the Patriots bandwagon. Oh, no one wants to play them in the playoffs now that they're healthy and getting better. Oh please..shut up! They won the weakest division in the AFC...seriously, winning the AFC East is like winning the Pac-10 title--anyone can do it. So, why are we celebrating the Pats again?!? Please...let's hope they host a playoff game, win it and come to Indy so the Colts can finally put this thing to rest.

Though I do have to admit--it's gonna be terrible to have to pull against Peyton when my beloved Redskins stun the football world and make the Super Bowl....

posted by Unknown at 12/19/2005 08:24:00 AM | |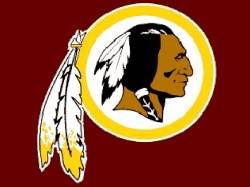 Thank you, thank you, thank you to the Washington Redskins for an early Christmas present. Not only did I get to see your game against the hated Dallas Cowboys, but I got to see the Redskins come out and just kick the sh*t out of Dallas from start to finish. Beautiful, beautiful, beautiful. For the first time in ten years, the Skins get the sweep of the evil empire and they take the second one at home in commanding fashion. I loved every last second of that game. (And for those of you wondering, yes I did watch the game well after the Skins had the game won because I'm a fan and this type of sh*t-kicking doesn't happen every day).

I think the best part was right before the end of the first half as the Boys looked to have some momentum, the Skins mighty defense stepped up and took the ball away. The offense then drove down and took a commanding 28-0 lead into the half and we never looked back.

Or as Bill Parcells, head coach of the Cowboys summed up his team's day, "

We were just awful." That is music to my ears....



Absolutely perfect game in every phase from start to finish for my beloved Redskins. Thank you so much for a great game and time well spent. Now, let's see what we can do about a postseason push, guys. I'd love to watch y'all dominate some more in the playoffs.

Oh and a note to FOX 17--forget the Dallas/Carolina game on Saturday. Please show some sense and intelligence and give us the Washington/NY Giants game instead. That game will feature two teams fighting for a playoff spot and possibly the NFC East crown. Dallas/Carolina is a second-run game now that the Boys are pretty much out of it.

posted by Unknown at 12/19/2005 07:16:00 AM | |


Woo-hoo! The Big Orange went into Austin today and handily took care of the Longhorns.

I have to admit as a long-suffering Volunteer men's basektball fan, I kept waiting for the bubble to burst, for Texas to put on a huge run at the end or something like that. But it never came. Instead the Vols looked really good in the game, staking out a huge lead early and never letting up.

Is it too soon to be optimistic for a good to great basketball season for the men's squad?

And can I add that the real UT now owns Texas since both our men's and women's teams took care of the Longhorns in the month of December...

posted by Unknown at 12/17/2005 06:29:00 PM | |


Earlier this week, I posted about my making a choice to not try to get Titans tickets Sunday because the greatest NFL rivallry in the universe would be airing on our local FOX affiliate. In the comments, there was some discussion of my true fandom and loyalty to the Titans.

For those of you who've come in late to the story, let me break it down again. I love the Titans and will pull for them to win every time they play except the few occasions they play the Washington Redskins. In my dream scenario, the Titans would be 17-1 and playing the 18-0 Redskins in the Super Bowl.

Interesting that thoughts about loyalty to a team would come up this week, when a UT Vols fan has decided he's had enough of the team and is selling his fandom on E-Bay. Now, I can understand the frustration with the Vols football team this past season. Heaven knows I experienced it time and again--dear heavens did we really lose to South Carolina and Vanderbilt in the same season?!?. But, never at any point did I think of giving up my love for Tennessee.

I realize that what this guy is doing is a joke and intended to be all in good fun. But even all in good fun, let me say one thing--my loyalty to the Big Orange has not nor will it ever be for sale. Like my love of the Redskins and Titans, I'm a fan for life. And I will be there, week in and week out, passionately rooting for my team to win.

That's what being a fan is all about.

posted by Unknown at 12/16/2005 07:37:00 AM | |


Because I wear the orange tinted goggles, I felt sure that UT would beat Vanderbilt this year. Certainly there was nothing in the preivous 22 years that said we'd lose to the black and gold on our home turf. But this was the Vols this year, who could snatch defeat from the jaws of victory with the best of 'em. I forgot this fact a few weeks ago when John of Salem's Lot and I made a small wager on who'd win the game. We wagered a lunch (not at the Palm or some other such high priced establishment) on each of our respective teams and then sat back to await the results.

My thinking on the situation was--well, even if the Vols lose, I'll still get to enjoy lunch with a friend, so it's not all that bad.

Well, the Vols lost and today we finally found a time for me to pay off my debt and stop being a welcher.

Over Chinese buffet, John and I were discussing various things such as our love of

Veronica Mars, Buffy

and the Nashville blogging community. We were talking about our impressions of various bloggers we'd met in real life and did those expectations often gel with the image we'd created in our heads of the person behind the words. Sometimes it does, but sometimes it doesn't. I think part of that is that with a blog, you can show off certain parts of your personality but keep others on the backburner. For example, if you read my blog on a regular basis, you'd quickly figure out that I love UT and that I watch too much TV.

We talked about the history of our blogs, how we started them and why. I admitted that I'd had on-line journals before, but I've never really been in as active a community of bloggers as I've found around Nashville. In fact, I've met quite a few of my fellow bloggers at various functions and in real life and it's always interesting to meet them. For example, a few weeks ago I went to see the new

Harry Potter

with a group of people--some who blog and some who don't. At one point in the evening, someone was sharing a story and said, "Well, I blogged about it...didn't you read it already?" which made me laugh. Or along those lines, I was asking a friend how her Thanksgiving dinner went (she made the pies for her boyfriend's family dinner having never made pies before) and she replied, "Well, I blogged about it...just go read the entry."

I often wonder how many times those of us with blogs have said that to a fellow blogger. Or on the other side, who in the real world do we tell we've got a blog? I mean, do you tell everyone you know--hey, I blog and here's how to find it. Or do you keep it a secret from the close family and friends, even though anyone with an Internet connection could concievably find the blog and read it. And does that enter into how you portray yourself on-line? Again, if you read my blog, you know a bit about me, but is that "real" me? Or is it just part of my personality that I allow to peak out on-line and say hello?

It's just something to think about.

Oh yeah, I was also wondering something. At the last blogger meet-up at Mafiosa's there were rumors of a blogger holiday party to take place. Now, I've not heard anything about it which means either it's not happening due to the hectic nature of this time of year or it's high school all over agan for me. I prefer to believe that it's the former explanation and was wondering if there might not be a Festivus meet-up in January after the insanity of the holidays has slowed down to a dull roar?

posted by Unknown at 12/15/2005 02:00:00 PM | |


Rumors are flying all across the on-line

Doctor Who

message boards that someone saw a commercial on SciFi that says something like, "Guess

Who

's coming to SciFi in 2006? He's back and it's about time." The commerical allegedly includes the sound of the TARDIS materializing and that's about it....

No official confirmation yet that the new

Doctor Who

has been picked up by SciFi to air in the U.S. (though the jerks passed on it the first time). Nothing from the BBC or SciFi's web site, so I am taking this one as hopeful but with a grain of salt until I see said commerical (honestly, I haven't watched much on SciFi since

BSG

got to the mid-season cliffhanger a few months ago).

If it is to happen, it'd be great news. First

AD

gets possibly saved and now

Doctor Who

could be finally airing in the U.S.

It's a Festivus miracle, I tell ya!

posted by Unknown at 12/15/2005 12:20:00 PM | |


TV Guide On-Line has a short interview with Joss "I am a genius" Whedon, discussing the best movie of 2005,

Serenity

. For those of you who missed it, the movie comes out on DVD next Tuesday. I will be first in line to buy a copy of this fantastic film that I hope gains an even larger audience on DVD (in the same sort of way that the first

Austin Powers

gained an audience on home video back in the day).

I must implore you to not rent but go out and buy this DVD. Why do you ask?

Let me quote Joss, when asked if there could be more

Firefly

movies:

It's hard to say. I think the DVD sales will have a lot to say about that. Are there more stories to tell? You bet. Would I love to tell them and work with everyone again? The answer is also yup. Now, the movie did not get a huge amount of people out to see it. We'll need the DVD to make the money back. But I rule out nothing. I think it's the type of movie that can be discovered on DVD. It has definitely affected the people who have seen it.
So, basically, what I'm saying is go out and buy it Tuesday. Then buy it for everyone on your Christmas list. And then buy it for everyone you come into contact with and even buy it for people you don't like. Buy many, many copies so that we can have a sequel. Trust me...you'll love this movie.

posted by Unknown at 12/15/2005 09:09:00 AM | |


As we get closer to Christmas, it's good to know if you can expect good stuff from Santa or if you're gonna get coal...



posted by Unknown at 12/14/2005 02:51:00 PM | |


Rumors are circulating that ABC and Showtime are both in talks with 20th Century Fox to pick-up the cancelled

Arrested Development

once FOX officially gives it the boot. (It's stopped production but hasn't yet been officially cancelled.)

Wow, talk about a cool, early Christmas present if that did happen....

Of course, I'm still waiting to see this week's episode since FOX 17 aired some other local special instead of this week's new installment. We get the episode Saturday evening locally. I would almost be angry with FOX 17, but they're showing Washington/Dallas Sunday, so I'm feeling pretty forgiving....

posted by Unknown at 12/14/2005 01:24:00 PM | |


OK, so usually that headline would apply to the Lady Vols' basketball team. But this year, the Lady Vols' volleyball team is set to play in the final four for the NCAA volleyball championship. As the insane UT fan that I am, I am pulling for the Lady Vols to win it all and bring home a national championship trophey.



GO BIG ORANGE!!!!!!!!!!!!!!!!!!!!



posted by Unknown at 12/14/2005 01:21:00 PM | |


A couple of weeks ago, a guy in my spinning class stated that while he was a season-ticket owner, he'd gone to his last Titans home game of the year, since they were doing so poorly. I asked him if he was going to let his tickets go unused and he said probably, to which I said, I'd be happy to use them if he wasn't going to go. He said he'd get back to me and I've not heard from him.

You know, I just don't understand why people pay a ton of cash for PSLs and then a ton more for season tickets and then not go to the games. Come on, people! I know we're not doing too well this year and last year was nothing to write home about...but at least give the tickets to someone who might go. I mean, it's embarassing to hear that the game is sold out and then see tumbleweeds rolling through the stands when the game is on TV.

That said, a guy in the locker room was trying to make a deal for cheap Titans tickets yesterday. Sunday is the last home game of the year and we play the Seattle Seahawks. I'd love nothing more than to see the Titans pull a massive upset for the home finale of the year, but with our porous run defense and the Seahawks having Sean Alexander I'm not holding my breath. That and the fact that our offense self-destructs inside our own 20.

And I was thinking--you know, if I could find cheap tickets, it might be worth going...

That is, until I checked the TV listings. Hallelujah, the Falcons play a night game next week and it looks like FOX 17 has done what any smart station should do and is showing the greatest rivallry in all of professional sports. The Dallas Cowboys come to the home of my beloved Washington Redskins for a potentially huge NFC East showdown. How can you not get excited about this game, especially the way the last one on Monday night ended with the Skins pulling off a miracle finish to defeat the Boys?!?

And so, I suddenly found myself not caring as much. Cause if I went to see the Titans play, I'd miss much of the Washington/Dallas game. And you know, I can't do that....

posted by Unknown at 12/13/2005 08:34:00 AM | |


Yesterday while munching a few morsels of carmel popcorn sent over by a customer, I was talking to a co-worker about the holidays, favorite holiday foods and plans for the next few weeks in terms of vacation time. Somehow the conversation got turned around to holiday gifts and I was bragging that I'd finished most of my holiday shopping when she said, "I wonder when we're going to get our holiday gifts from the company. Each year we usually get this and that."

Which that got me thinking.

See, I've never been a person who really expects a holiday bonus from any of the companies I've worked for over the years. Part of that might be that I've never really worked for any companies that had such a policy, so it's never become part of my expectation. And also, quite frankly, after spending a good part of 2004 looking for a job, I'm grateful to have a steady job in 2005 with a regular paycheck and benefits.

But it's interesting to consider the bonus. Certainly a lot of comedy gold has been mined over the years from the idea of the holiday bonus. It's a major plot point of the classic C

hristmas Vacation

and I remember an episode of

Friends

where Monica ticks off everyone from the mailman to the building maintenance guy by baking cookies to give as a holiday gift instead of giving them cash. Indeed, growing up, I had a paper route and, sure, this time of year I found that people would tip a bit more generously, but it was never something I expected. (Which, interestingly enough, the paperboy put an envelope in with the paper a few weeks ago with his name and address in case we wanted to tip him extra at the holiday season).

But I have to wonder something--is a little extra this year something that should be an expectation by people? I know it's the holidays and we're all supposed to be feeling generous, but does that extend to giving an extra tip to the paperboy, giving something to the mailman or expecting a bonus of some kind from our employers? Honestly, I expected that since we had the holiday party, that was pretty much it. Maybe I have low expectations but a free meal along with door prizes (which for the first time since I've worked anywhere, my company gave a door prize to every employee who came to the holiday party, which was nice), I figured that pretty much covered it and I was more than satisfied.

Nor am I honestly expecting more. If the previous years' holiday gifts from the company come through, that's fine. If not, I'm not going to lose sleep over it. I've got a good job and the company does a good job of taking care of the employees benefits wise.

But I do know some people who expect more. I used to work with a guy who complained pretty much the whole month of December that we never got a holiday bonus. I just shrugged and went on with my life since there was nothing to be done about it by getting upset about it. At the end of the day, we had jobs and regular paychecks. What else did we expect? There is certainly no rule saying a company has to give you a holiday bonus.

posted by Unknown at 12/13/2005 08:01:00 AM | |


Tish tagged me, so here we go...

Sevens (not to be confused with the Brad Pitt/Morgan Freeman movie,

7

)

Seven things that attract me to a woman:

intelligence
wit/sense of humor

eyes

common interests

communication skills

Christian

ability/willingness to comprimise, see others side of a situation.

Seven Things to Do Before I Die:

visit the UK and go on that rock quarries of

Doctor Who

trip.

meet that special someone and have kids

never stop learning

write and publish a book

see the Titans vs Redskins in the Super Bowl

go to the actual game (as opposed to watching on TV) when the Vols win a national title

spoil my neice and nephew as muc has possible.

Seven Things I Cannot Do:

drive stick shift

watch enough football

stop biting my finger nails

go on

Survivor

and win

travel in time

go without using spell check

thinking too much

Seven Things I Say Most Often:

Go, Big Orange!

I'm just saying...

Yeah, right!

But, seriously...

LOL

So, I was watching ________ and...

Alrighty, then.

Seven Books (or Book Series) I Love:

The Bible
Any book by Stephen King

Elizabeth George's mysteries


Star Trek: New Frontier

by Peter David

Robert Whitlow's books


Searching for God Knows What

and

Blue Like Jazz

by Donald Miller


Lake Wobegon Days

by Garrison Keillor

Seven Movies I Would Watch Over and Over Again:

Star Trek II: The Wrath of Khan

Empire Strikes Back

The Searchers

National Lampoon's Christmas Vacation

Back to the Future

Spider-Man 2


Three Amigos!



Seven People I Tag To Do Seven Sevens:

I'm not gonna tag seven people...if you want to play, please feel free!

posted by Unknown at 12/12/2005 01:26:00 PM | |




Arrested Development

's final episodes are airing now. But if you live in Nashville, you'll have to wait until Saturday to see them (unless you can find them by other means.). Seems that FOX 17 is having some kind of holiday themed St Jude's holiday thing during the hour that

AD

would be on tonight. Not to sound all Scrooge-like here, but couldn't they air it during one of the million mindless hours of reality TV that FOX shows instead of

AD

?!?

posted by Unknown at 12/12/2005 11:33:00 AM | |


So, it wasn't the prettiest win..but I'll take an ugly win over a pretty loss any day. And it was the Texans, for pete's sake! Seriously, we cannot lose to them.

Watching the last half of the game at the Y is an experience. At several points in the final two minutes, you could sense this odd hush coming over the workout area. You'd hear the whir and movement of various machines, but the weights would stop making noise and conversation stopped when the Texas missed their first field goal, when the Titans got theirs and then there were lots of fist pumps in the air when the Texans missed that last field goal to give the Titans the win.

I mean, it's not like we beat Indy or anything like that. But in a season like this, it's nice to know there is one team that we can take beat.

And now, FOX is teasing me, saying that the big A game in the NFC next week is the greatest rivallry in all of pro football, the Washington Redskins vs the Dallas Cowboys. Usually, our FOX affiliate picks up the A game and shows that...so I am hopeful I will get to see my beloved Redskins at home against the team I most love to hate and despise. But knowing how cruel our local FOX station is, the Falcons will be playing some crappy game and we'll get that stupid one instead. If so, rioting in the streets..that'll be me.

posted by Unknown at 12/11/2005 05:24:00 PM | |


Smallville

:

Lexmas
There's been this survey running around various blogs the past couple of weeks that ask the simple question, if you could choose between being rich and celibate and being monetarily poor and having great sex, which one would you go with? In some ways, that question is the basis for this episode of

Smallville

, though instead of great sex, the producers substitute having a great life.

One of the most fascinating things about

Smallville

is that, as I've said before, we all know where the story ends. We know that Clark eventually becomes Superman, Lex becomes a supervillian and these two men who could have been great friends and allies instead end up as bitter enemies. But the question that

Smallville

tries to answer (and does to varying degrees of success) is how these men came to be this way--what brought them to the point that they are such enemies. Why does Lex Luthor have such disdain for Superman and what he stands for?



Smallville

is a show that is more about the journey than the destination. Again, we know where it's going.

Of the two central figures on the show, over the years, Lex has drawn with more complexity than Clark has. In a lot of ways, part of the motivation for Lex's walk down the path to destruction is a bit of jealousy for all the things Clark has. Clark has a loving family, Lex has Lionel who is so manipulative and Machiavellian it's almost scary sometimes. Clark has the approval and love of his father, Lex is no where close. Clark gets Lana, at least for a while and Lex pines for her, knowing that by the choices he makes, Lana will never love him in the way he wants to be loved. Clark knows without a doubt that the people in life care for him because of who he is and never has to ask if the people who come into his orbit are there because of his money, power or what he can do for them, unlike Lex.

But yet, in all of this, we see that Lex yearns for an average, middle-class life like Clark has now. In a dream right out of

It's A Wonderful Life

, Lex is shown what his life can be like if he pursues a path that doesn't lead to power and money. Instead, what if he chose to pursue just being Lex and being content and happy with that. And basically we find out that Lex would have about seven years of happiness and then come to a place where he's be in the same position as he is now--needing money and power to achieve what we wants. The difference is that now what he wants is money and power to get the things he wants, in this case a life with Lana. In one possible future, Lex will get to a point where he'll need money and power to keep the one thing he wants most--Lana. In both cases, Lex will lose Lana..it's just a choice of how and when. Or so

Smallville

will tell us. So, instead of going for the seven years of happiness, Lex decides it's time to consilidate now, grab the money and power while it's there and then see what he can do later about winning Lana's heart. After all, if he has the money and power, she won't die post-childbirth as we see in the potential vision of the future that Lex has.

Of course, we all know that Lex's vision of a perfect day glosses over the hard times. We do have some mention of Lex's inability to make ends meet in a middle-class lifestyle and I'm sure not every day is cookies and Christmas parties with Lana and the Kents. So, there would be some stressful times ahead for Lex, no matter what path he chose. But I think what Smallville is trying to say it that, overall, Lex would be happier with the choice to just be an ordinary, average guy like Jonthan Kent is now rather than to shoot for extraordinary to live up to some mythical standard that Lionel has set for Lex. Interesting that in the dream sequence, Lionel does nothing to try and put another heir into the picture, instead waiting in Luthor manor for Lex to come crawling back so he can kick Lex while Lex is down. If anything, this goes miles to show the father/son dynamic in play here and what a contrast it is to the relationship of Jonathan and Clark.

So, in the end, Lex decides to forego seven years of happiness and make the choice now that he'd have to make then--lose Lana but go for the wealth and power. And to start it off, he decides to do whatever it takes to bury Jonathan in the quest to be state senator.

Like I said, there are times when

Smallville

is just on and it's a fascinating show. Interestingly, most of those times are when we focus on Lex and let Michael Rosenbaum just run with it. And, as always, he's more than up to the task.

Interestingly enough, Lexmas is a huge dictomy that shows all that is good and all that is just OK about

Smallville

all in one episode. The whole subplot of Clark helping deliver Christmas presents and meeting what is probably the real Santa Claus was just too hokey to be believed. I mean, I had a hard time a few years ago with not gagging from the holiday over-sentimentality when on

Lois and Clark

we had Superman pulling Santa's sleigh....so this subplot, which was predictable a mile away, just left me bored and wanting to get back to exploring Lex's pysche more. Call me Scrooge if you must, but this plotline was just a bit too sentimental for my liking.

Veronica Mars

:

One Angry Veronica
Now if you want to see how a Christmas episode can walk that fine line between being keeping in the holiday spirit and not getting too overly sentimental, look no farther than this week's installment of

Veronica Mars

. Instead of having Christmas in there, permeating every scene, we instead get a storyline that takes place during the Christmas season, but there aren't any great miracles such as the real Santa Claus dropping by and delivering all the toys for tots presents.

Instead, what we get is a

Veronica Mars

episode that is packed to the brim, as usual, with plotlines. All of them interesting and compelling. I keep saying this, but the one constant pleasant surprise for

Veronica Mars

is that it manages to keep all of the plotlines interesting week in and week out. I never feel as though we're biding time with one storyline at the expense of another plotline.

Interesting that I'd comment on the warped nature of father and son relationships on

Smallville

when that exact same theme crops up here. In this case, the Aaron Echols/Lily Kane tapes are stolen from the Neptune police department. Keith is called in as a special consultant by the mayor to look into this. Logan finds out and is able to get hold of the tapes before they're sold to a tabloid or put on the Internet. Logan watches them and then erases them becuase he doesn't want the memory of Lily, his first love, destroyed more and he somehow wants to protect his father from the shame of being another Paris Hilton. Logan pays $50,000 for this--which let's face it, his father wasn't doing him any favors or is going to win father of the year. But yet, Logan still loves him and wants to help out his dad. Even if it could mean jail time or allowing his father to potentially go free for killing Lily since a crucial piece of evidence is now missing.

Meanwhile, Keith's investigation turns up that fan favorite officer Leo was the one who took the tapes. Not exactly earth shattering since I called this one a mile away. We haven't seen Leo all season and he suddenly turns up. Yep, that makes him prime suspect in my book. And yet, somehow

Veronica Mars

manages to take what is predictable and spin it so that we learn something about the character of Leo. Actually, more like reinforce what we know. Leo's a nice guy. Leo cares about those around him. He only takes the tape in a moment of weakness in an attempt to help get his sister with Down's sydrome into a school that can better address her needs. When confronted, Leo apologizes but doesn't beg Keith to spare him. He knows he's done wrong and he takes the consequences for it. He doesn't expect speical treatment despite the fact that his motives for taking the tapes were good ones. It was still wrong and he accepts that. And as we see Leo turning in his badge and gun at the end, we feel sympathy for the character.

Complexity and shades of gray--that is what

Veronica Mars

is all about.

Meanwhile, continuing of from last week, Veronica and Duncan discuss Meg's pregnancy and go to visit her in the hosptial. Duncan and Meg have an interesting conversation and then Meg asks Veronica to not let the baby be adopted into the same type of upbringing that Meg had. Veronica promises this, only to have Meg die by episode's end, thus leaving Veronica now with a choice--does she somehow fight for the baby? Will she get Duncan to use his resources to somehow adopt the child or at least keep it out of the type of home that Meg grew up in?

And then, we've got Veronica on jury duty. At least here, we see that Veronica's convictions and relentless pursuit of the truth might help her--in this case, getting her into a nice college in Neptune. Of course, this plotline is to set up the potential for season three and keep Veronica in Neptune. Interesting to see that the college counselor will fight for Veronica in the same way she fought for the truth in the case she served as jury foreperson.

And just to give you a warm holiday glow in the end, Wallace returns. Nice touch.

Alias

:

Bob
There are some shows out there that are able to reinvent themselves year after year. Then there are some that try to reinvent themselves with varying degress of success, often copying the formula for what worked when the show was successful and replicating that again. Or at least trying to.

The X-Files

did that in season nine, trying to create the new beliver/non-believer dynamic with Doggett and Reyes. And here, in the final run of episodes,

Alias

is trying to do it with a whole new gang of spies over at APO.

You can see how they were trying to set up hading the baton of this show from Jennifer Garner to Rachel Nichols. But just like trying to replace Emma Peel with Tara King wasn't that big a success, it's not proving to be all that huge a brilliant idea here.

Not to say I don't like Rachel Nichols, but I wish the series would give her something more interesting to do than cover the same basic beats we saw with Syd in the early years. I swear, I keep waiting for Rachel's father to somehow be a spy as well and that lead to some family conflict between the two to make the circle somehow complete.

In a season that is flailing for a plotline, the show does go back to a previous strength. It's what I call the Sideshow Bob syndrome. On

The Simpsons,

even if a season is just mediocre, you can count on a Sideshow Bob episode to elevate things or at least deliver some laughs. Same thing here, only here you go with Sark. Bring in Sark and things might get a bit better, if only becuase David Anders has so much fun playing the character. And give the writers credit--they at least keep Sark consistent. He's attracted to tall blondes who are spies. In season three, he hooks up with Melissa George's character and here he hooks up with Rachel Nichols.

The plotline, such as it is, is that apparnetly there is some new EMP device that instead of frying electronics fries people. It falls into the hands of bad guys who want to use it for...umm..OK, I'm not sure why other than they are bad guys. Sark is involved somehow in getting the info to the bidder. Along the way, we find out that MI6 might have a mole in it....since we haven't trashed the British intelligence force in the series, so why not? Jack and an MI6 agent who he seems to have some odd connection with go on a mission to find the bomb and get captured. Sark is brought in to help get him back.

Luckily for us, the villians of this piece have seen

Austin Powers

and take Dr Evil's advice about having an overly elaborate and easily escapable death to heart as an actual devious plan instead of a sarcastic parody. They handcuff Sark to the bomb, run off and leave all the prisoners there...I say to you--huh? If you want to kill Sark, then shoot him. And why would you steal a bomb only to wipe out a remote area of Tunisia? I mean, if you want to cover you tracks, it seems there are better ways to do this and not give up this weapon you've spent the entire storyline acquiring. But hey, there I go introducing logic to the Alias universe and I've got to really stop doing that. It just ruins the enjoyment of the show.

So, anyway, in the end, Sark and Rachel have some witty banter, Syd gives Rachel some advice and we wonder if Jack and MI6 lady were more than just friends.

Ah,

Alias

...how I miss how good you used to be.

posted by Unknown at 12/09/2005 07:27:00 AM | |


Quick! We've all got to get to Kroger now and start buying up bread and milk because I heard on the news this morning we could have a possible winter storm sometime today, including slush, freezing rain and possibly snow! This can only mean one thing--we could all be home bound for days, thus necessitating that we'd need five loaves of bread and two gallons of milk each. Also, I think we need to stop by the video store and pick up at least 17 movies to watch while we're ice bound and can't leave the house!

The most efficient way to go about this would be to pool our resources. I'll go to Blockbuster and rent every new movie I can find as well as a few classics so we have a selection and choices. You go to Kroger and buy up as much milk and bread as you possibly can. Don't get distracted by silly things like soups or ice cream....dammit we need milk and bread!

Let's meet back at my place as soon as possible. We'll build a fire over which we could toast marshemellows if we hadn't spent all our cash on movies, bread and milk and huddle up for a serious Pauly Shore movie marathon.

posted by Unknown at 12/08/2005 07:12:00 AM | |


Ah while ago, I agreed to be interviewed by my good blogging friend, Logtar. But I'm stupid and when he posted the questions for me, I could never find them. He kept trying to shame me into answering and I was too proud to admit I couldn't find the questions.

Finally, I broke down and told him I couldn't find the questions. And he kindly sent them to me so I can now give the long awaiting Big Orange Michael: The Logtar Interview



1. Give me top 5 qualities, in importance order that a woman should have to

win BigOrange's heart.





Good conversation--to talk about the routine of daily life, the stuff that is important to her, me and us and to have the hard talks when we need them, a sense of humor, pretty eyes, someone whose faith and Christian walk is important to her and places that above everything else, including her, me and us and someone who likes kids and hasn't lost touch with her inner child.





2. In ONE sentence sumarize

Dr. Who

. I know I am evil.





The adventures of a Time Lord called the Doctor who journeys all through space and time with various male and female companions in his time machine, the TARDIS, putting right wrongs and having adventures.





3. If you could only watch one SCI-FI Show a week, excluding the one before, which one would it be?



Currently in production (and that we can see on a U.S. network) : No question--

Battlestar Galactica

. If it was being shown here:

Doctor Who





4. What book have you read that you not only think has made you a better person but that everyone else should read? Bible excluded.



A few weeks ago, I saw a couple of my on-line blogging friends reading a booked called

Searching for God Knows What

by Donald Miller. After reading their thoughts and reactions on it, I had to give it a read. And wow, this book was great. It's a well-written book on what the Christian faith is and what it means to be a Christian these days. It's written in a total conversational style that I enjoyed. I mean, reading it, I felt like I was across the table from Miller, having a beer and discussing all of this. And yet, it was profoundly moving...things in the faith and story of God that I take almost for granted and when I thought about them, I went--man, I should remember that more. It's a great book...go and get a copy and read it.

5. Everything in the universe can somehow be related back to

Star Trek

, so now I want you to relate a snail to

Star Trek

, also as a bonus, has there ever been one in an episode or movie?



I get on the interstate and man, I think I'm going fast. But compared to the Enterprise, my little car is like a snail, driving along. As for a snail in an episode, not sure. But, the symbiote that lives inside of Dax is a slug...does that count?



posted by Unknown at 12/07/2005 02:47:00 PM | |

Follow me on Twitter!



Follow me on Twitter!




Recent Comments




Awards



Best Middle Tennessee Blogs
Web Sites I Visit
CrossWalk.com
Daily News Journal
Doctor Who News
Go Vols
Go Titans
The Tennessean
The Tennessean's Titans Coverage
Trek Today
TV Guide On-Line
Washington Post Redskins Coverage
USA Today
2007 Team Schedules
Tennessee Vols
Tennessee Titans
Washington Redskins
Favorite Authors on the Web
Orson Scott Card
Peter David's Blog
Keith R.A. DeCandido's Blog
Neil Gaiman
Elizabeth George
Philip Gulley
Stephen King
Donald Miller
Lisa Samson's Blog
Robert Whitlow
Musical Links
Carolyn Arends
Sherrie Austin
Cherryholmes
Lee Domann
Dust And Ashes
Fleming & John
Sara Groves
Jennifer Knapp
Jars of Clay
Carolyn Dawn Johnson
Cindy Morgan
The Monkees
Nickel Creek
Nothin' Fancy
Rebecca St. James
Ray Stevens
Steep Canyon Rangers
Williams and Clark Expedition
Rhonda Vincent and the Rage
Jaci Velasquez
Blogging Links



<< ? Blogaholics Anonymous # >>

My Blog Chalk

This is my blogchalk:
United States, Tennessee, Smyrna, English, Michael, Male, 31-35, Reading, Swimming laps.


You Are Visitor

Looking For Something Specific?