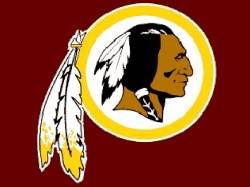 Thank you, thank you, thank you to the Washington Redskins for an early Christmas present. Not only did I get to see your game against the hated Dallas Cowboys, but I got to see the Redskins come out and just kick the sh*t out of Dallas from start to finish. Beautiful, beautiful, beautiful. For the first time in ten years, the Skins get the sweep of the evil empire and they take the second one at home in commanding fashion. I loved every last second of that game. (And for those of you wondering, yes I did watch the game well after the Skins had the game won because I'm a fan and this type of sh*t-kicking doesn't happen every day).
I think the best part was right before the end of the first half as the Boys looked to have some momentum, the Skins mighty defense stepped up and took the ball away. The offense then drove down and took a commanding 28-0 lead into the half and we never looked back.
Or as Bill Parcells, head coach of the Cowboys summed up his team's day, "
We were just awful." That is music to my ears....
Absolutely perfect game in every phase from start to finish for my beloved Redskins. Thank you so much for a great game and time well spent. Now, let's see what we can do about a postseason push, guys. I'd love to watch y'all dominate some more in the playoffs.
Oh and a note to FOX 17--forget the Dallas/Carolina game on Saturday. Please show some sense and intelligence and give us the Washington/NY Giants game instead. That game will feature two teams fighting for a playoff spot and possibly the NFC East crown. Dallas/Carolina is a second-run game now that the Boys are pretty much out of it.
posted by
Michael Hickerson
at
12/19/2005 07:16:00 AM
|
|