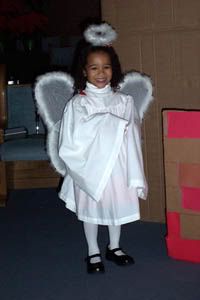 My neice as an angel for the children's Christmas pagent
As a proud uncle I have to say that my neice is, officially, the cutest angel EVER. Now, I may be a bit biased here, but honestly I don't think so. How can you look at that picture above and not see how cute and adorable she is?!?
She took part in the children's Christmas pagent last night at church as one of the the multititude of angels. My nephew, Davis is still about a year away from his theatrical debut as a shepard, but that should come next year.
The children's Christmas pagent is always one of those things of organized chaos. I love watching the kids shuffle on and off stage, singing a couple of choruses of
Away In A Manager
and seeing kids wave to parents while about a billion cameras go off, recording these moments. I have a lot of respect for those who organize it--working with the kids for the weeks leading up to it and having the patience with them through the whole process. It takes a lot of hard work.
On Saturday evening, I babysit Gracelyn and Davis. A church I visited a few weeks ago was having a living nativity done by the youth of the church. We all hopped into the van and went to see it. I was happy that halfway to the living nativity, Davis lost interet in his Bob the Builder DVD box and suddenly said, "See baby Jesus now?"
We got there and piled out. Grandma and Grandpa met us there to help corral small people (they are quick and wily) and we all went to look at the scene. Both kids enjoyed it and couldn't stop talking about it, though Gracelyn was a bit annoyed that baby Jesus was played by a doll and not a real baby. On the way back to the van, Davis said, "Bye-bye, baby Jesus" which Uncle Michael found really adorable. (Guess you had to be there...)
There is another opportunity to for a living nativity taking place this week in Smyrna. It's at Stones River Baptist on Sam Ridley. I saw this live nativity last year and it nearly caused me to drive off the road. Driving past, I saw the stable scene and I saw there was a camel and a donkey and other assorted barnyard critters out. I thought to myself--those are some really realistic looking wooden cut outs of animals until the camel moved its head. At this point, I nearly drove off the road as I did a double take and went, "Holy cow! Those are real animals!"
I'm sure Progressive would've loved the paperwork on that one....
posted by
Michael Hickerson
at
12/19/2005 01:33:00 PM
|
|