Awwwwwwwwwwww, man ! I knew it was too good to last....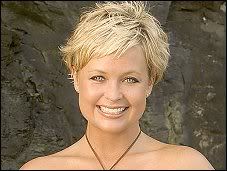 My love affair with
Survivor
Melinda came to an abrupt end last night when she was voted off the show. I've got to say that Melinda got completely hosed by a bunch of weenies and even by the people in her alleged alliance. Cherie's crying at tribal council about how she wanted her family to be proud probably sealed the deal on the weenie allinace voting for Melinda over Cherie--who deserved to go home! But hey...the game's about manipulating those around you to keep your happy self on the island for three more days.
If I were out there, I'd have voted for Shane just for hinting that he wanted to quit and go home. You never know when that will to quit or give up is going to come back--and let's face it, we all know it is! And I have to think that the alliance of NASA guy and jet-pilot guy should have thrown the immunity challenge to get their third little buddy back on the team and into their alliance.
But, they never asked my advice on how to play the game.
So, I'm pretty bummed out now that Melinda is gone. But hey, now that she's officially voted out, she might have more time to surf around, find my blog, realize that I'm a pretty nice all around guy and give me a call. Like I said last week--the story could have romantic comedy written all over it.
So, if any of you East Tennessee bloggers or reporter people (such as
Michael Silence
) get to talk to her or interview her, how about a good word for a lonely blogger with a crush?
posted by
Michael Hickerson
at
2/10/2006 07:22:00 AM
|
|