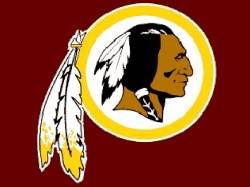 Wow! What a defense! Greg Williams showed why he's worth every dime of the huge contract extension he was given this week by the team. One of the worst offensive productions in playoff history but who cares?!? The Redskins took care of the Bucs, exacting revenge for that fluke 36-35 win by the Bucs back in week ten. And you know what one of the best parts of these run has been? I mean, besides the winning. Used to be that every time the Redskins did anything in the past few years, we'd see shots of Daniel Snyder. This year, no shots of Snyder. I am sure he's there but I think with the veteran coach Joe Gibbs there and hopefully learning from his past mistakes, Snyder has instead chosen to write the checks and let Gibbs and company do the coaching and personnel moves. Whatever it is, it's working...first playoff win since the 99 season and my dream of seeing my beloved team in the Super Bowl is still alive. Next step--Seattle! We get the same defensive effort we got today and MVP Shawn Alexander is going to feel like he's back at Bama playing the mighty Vols again....in other words--on the losing end!
Meanwhile, earlier today the Lady Vols took care of the Lady Huskies of U-Conn. I love this rivallry because it's so good for women's basketball. I am glad it hasn't gone the way of the UT vs Vandy rivallry in women's basketball. When I was at UT, that was always a great game, hence why they added a second game between the teams each year. In recent years, it's diminished a bit and that's a shame as I enjoyed it. I have a feeling Vandy is on the way back, which is all good for the game and the rivallry. But back to U Conn...is there a more classless coach in any sports than Gino Auriemma? The man has a book out in which he spends an entire chapter slamming Pat Head Summitt. What a jackass. Yeah, he's won five titles, but last time I checked Pat had six. And she's done it over 30 years at UT. He's a new pup by comparison and the one thing Pat will always have over you is class. You are a Johnny come lately and I revel in the fact that we beat you today. To quote Nelson Muntz, "Ha, ha!"
And a note to CBS--for a national coverage of a game, is it a bit biased to have Rebecca Lobo calling the game, doing color analysis?!? Yeah, just a bit. At least ESPN tries to appear objective when they call women's basketball games. Ugh....why not at least get a former Lady Vol in there for some comments on courtside or soemthing instead of the unrelenting stream of crap about UConn we got from Lobo. Show some damn professionalism CBS!
Ah, I feel better now...
Now if only the Jags can take care of the Pats, my sports day will be perfect...
posted by
Michael Hickerson
at
1/07/2006 06:49:00 PM
|
|