Ticket to Lady Vols vs Vandy game: $20.50
Parking for game: $5.00
Dinner at Cheeseburger Charlie's before the game: $7.00
Witnessing Pat Summit's 900th win in person: Priceless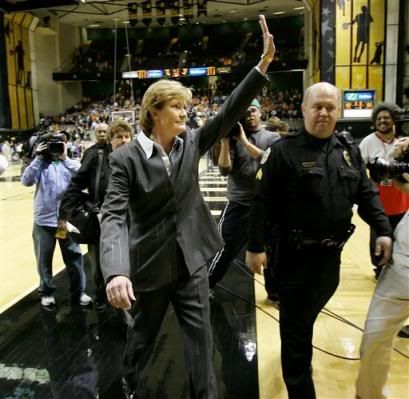 Congratulations to Pat Summit for setting the standard of excellence for women's college basketball for 30 plus years now. It was an honor to be in attendance last night to witness the Tennessee Lady Vols win their 900th win for the head coach. After the game, Summit gave credit to the players and coaches over the years who have helped make this possible. As always, Pat shows she's a class-act and a superb representative of what I hope all of UT's athletics programs, coaches and players would strive to be.
The game itself was a good one. Vandy came out early, fired up and I admit I was a bit concerned when we got in early foul trouble (poorly called game by the way when all our players had to do was breath on Dee Davis to get a foul!) and Vandy got up by 14. But the Lady Vols cut the deficit to five at the half and then roared back for a monster second half, powered by some awesome defense and timely shooting. Like I said--a great game.
The crowd was pretty much 50/50. I saw a lot of orange in Memorial Gym and I will give the Vandy fans credit--they were gracious and kind. Yes, they were enthusiastic, but they were never rude. (Walking to Memorial Gym, one fan in a Vandy car rolled down their window and yelled "Go Vandy!" at my orange and white....but hey, I don't blame y'all for having some enthusiasm. It's a rivallry game, after all!) I've been to a couple of away games and pulled for the visiting team and last night's game was one of the most pleasant I've had. Of course, I was lucky that I sat in section of largely UT fans and was near a large contingent of Lady Vols supporters. In fact, during the game, I tried to behave in the first half but my natural UT enthusiasm took over as we went on the run to close out the first half. At halftime, one of the women next to me said to me, "Son, if you need to cheer for the Lady Vols louder and more, you go right ahead. We'll be with you." So, we did and the game turned around. I figured Pat and company were worried I hadn't made it and once they heard me cheering, they relaxed a bit more. Becuase, as we all know, it's all about me.
I did find it amusing that there were times when the Lady Vols fan were louder than the Vandy cheers. And there were a few times when the choruses of "De-Fense!" were loud enough to possibly disrupt the rhythm of the Lady Commodores offense and create some much-needed turnovers for UT.
Fun game and it sets up a huge showdown Monday night with number one UT vs number two Duke. Game is on ESPN2 and I hope its a showcase for all that is good and great about college athletics.
posted by
Michael Hickerson
at
1/20/2006 09:17:00 AM
|
|