All I heard about for weeks leading up to Halloween was how a lot of people at work all got dressed up on the big day and there was a costume contest. So, figuring to show I'm a team player, I decided I'd go with a costume for Halloween. But since I'm also frugal (aka cheap), I wanted to go with something that wouldn't cost an arm and a leg. After much thought, I came down to two ideas--a cowboy or a solider. Both would be easy as I had the components for each easily accessible or easily borrowed from family members.
So, I decided to go with the solider theme. I borrowed my dad's old fatigues from his Air Force days, which turned out pretty cool since it's got a name patch with my last name on it, sewn right on there.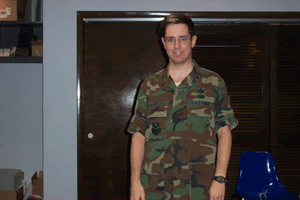 I didn't figured I'd win the contest, but again, the idea was to have fun and get in the spirit of things. Plus, let's face it--a day without having to wear a tie is a good thing.
Now, based on what everyone had described and the photos I've seen of previous years, I was expecting ewe'd have more than four people dressed up in costume. And funnily enough--another woman dressed up in fatiques as well. And one guy wore his costume long enough to have his picture made for the contest and then got out of it. I'm telling you--this whole Halloween at work thing was made out to be a lot more exciting than it turned out to be.
posted by
Michael Hickerson
at
10/31/2005 11:29:00 AM
|
|