Joss Whedon, the Oscar® - and Emmy - nominated writer/director responsible for the worldwide television phenomena of BUFFY THE VAMPIRE SLAYER, ANGEL and FIREFLY, now applies his trademark compassion and wit to a small band of galactic outcasts 500 years in the future in his feature film directorial debut, Serenity. The film centers around Captain Malcolm Reynolds, a hardened veteran (on the losing side) of a galactic civil war, who now ekes out a living pulling off small crimes and transport-for-hire aboard his ship, Serenity. He leads a small, eclectic crew who are the closest thing he has left to family –squabbling, insubordinate and undyingly loyal.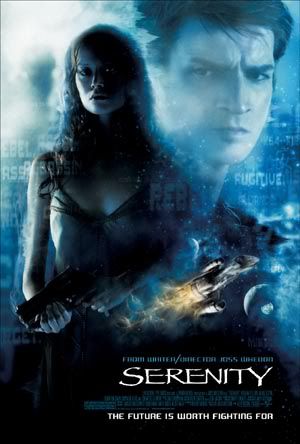 You'd think the sense of euphoria at getting to go see
Serenity
at a special blogger sneak-preview on Wednesday evening would have worn off by now....
...you'd wrong.
Which can only means that by Wednesday, I will be little more than a blathering idiot.
I am looking forward to seeing some of the Nashville Is Talking bloggers out at the event. I promise I will not dress up like any of the cast from the show. But I will be the one blathering like an idiot about getting to see it early. Yes, I really am that excited about it.
Note
: This was originally posted on Saturday, but I've relinked it to today....just cause I'm that excited about it...oh yeah and part of my getting the free tickets is promoting the movie here. Not that I wasn't going to anyway....I love all things Joss Whedon.
posted by
Michael Hickerson
at
9/28/2005 03:31:00 AM
|
|