Friday's Feast
Appetizer
Whose intelligence do you find intimidating?
I don't really find anyone's intelligence overwhelming. There are people I know who are far more knowledgeable about a lot of things than I am and I can find that a bit overwhelming at times. But sometimes being around someone who knows a lot about something gets me interested in it and will lead me pursue finding out more about it. Other times, I'll just say--man, it's scary how much they know about (say for example) widgits. Of course, I know there are people who get around me, make the mistake of mentioning the words Doctor and Who in a sentence and then are stunned at how much useless knowledge I have about my favorite show. So it goes both ways...
Soup
Name something you've done that surprised yourself.
Well, there was that one time at band camp....
No, but seriously...
I will be honest--I am still surprised that I survived the summer and early fall hell of 2001 without either losing my sanity or becoming extremely bitter about the world. I give a lot of that credit to my family and some very good friends who helped me through a rough spot. And, of course, to God working in my life to produce good from the bad.
Salad
List 3 people whom you have only "met" online, but consider good friends.
I'm only allowed to choose three?!? Man, that means someone is gonna end up feeling neglected.
Becky
,
Logtar
and
Stacy
are three, but that leaves out
Kate
,
AK
,
the Chuckster
, Vicki,
Jen(nifer)
and
Cathy
.
Main Course
Where is the dirtiest place you've ever been?
The one that springs immediately to mind is this. Once upon a time, I was married (I'm now divorced). We came back from our honeymoon to find that the hot water heater in the townhouse we were going to live in had burst while we were gone, flooding the downstairs. It also made the house unliveable for a night. So, we've just flown in, driven two hours to our house and have to find a hotel at 2 a.m.--oh yeah, and one that will accept pets. (Don't ask...) We find one that takes pets, check in and go to the room. It is small, dank and disguisting. The bed does not have fitted sheets nor does it look like they've been changed lately. The bathroom is small, dingy and I think I improved the cleanliness of the toliet just by using it. The shower was moldy. Oh yeah and did I mention you had to RENT towels?!? Obviously this motel was one that was used to being used the hour and not intended for people to actually stay in it for a long period of time.
Dessert
What is the best example of "perfection" that you can think of?
My neice and nephew.
Aloha Friday
If you could take over for a talk show host for one day, who would it be?
I'd love to be on X-Play, if only so I could work with Morgan Webb...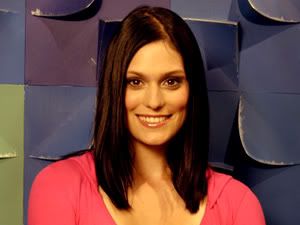 But that isn't really a "talk show" per se, so I guess I'd have to go with the Screen Savers, also on Tech TV.
Do you have any summer vacations planned?
Not really, no. Does my jaunt to Knoxville next weekend to see

Star Wars: Episode III

with Barry, BrainyBoy and a bunch of other people count as a summer vacation? Honestly, I just started working in January so I don't have that much vacation time built-up yet. The only other plan I've got it a trip--again--to Knoxville in August for my family reunion.
Spread the spirit of blogaloha…what blog should we visit this week?
Go and visit Karen over at
My Life
.
posted by
Michael Hickerson
at
5/13/2005 08:10:00 AM
|
|