Seems that Epiosde III is making a ton of money in the first day of release. (Gee, who didn't expect that?)
Last night, working out at the Y, I flipped through this week's
Nashville Rage
, which had a cover story about the last installment of the Star Wars saga. (Big shock, huh?) The interesting part was the discussion of the
Star Wars
saga
by a group of Nashvillians
. Sort of state of the
Star Wars
type of thing.
Of course, there are a plethora of reviews out there for the movie, but since I'm not seeing it until tonight, I'm avoiding them. I know that trying to go in totally unaware is impossible, but I am trying to limit the SPOILERs as much as possible. That said, there was an interesting non-review article this morning about
Anakin vs Luke: Was Darth born bad?
in
The Tennessean
.
If you want to see how much you know about the Star Wars saga, you can take the
Tennessean'
s
quiz about the Star Wars saga
. I scored 60, so I'm not quite a Sith lord yet.
Of course,
The Rage
also had an
interesting article
about women's swimwear fashions. If by article you mean pictures of women in swimsuits, like this one here....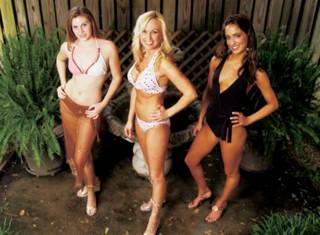 From
The Nashville Rage
's article.
Jessica Grider, Maranda Starling and Ande Sedwick model a swim suits.

posted by
Michael Hickerson
at
5/20/2005 09:52:00 AM
|
|