It's that time again...time for some Friday Memes! Let's get started!
Aloha Friday
Describe your home's decor.
Big shock here--lots of Tennessee related stuff. Lots of orange and white, but tastefully done. In fact, I was excited to find an orange bath towel set at Wal-Mart last weekend.
As for most of it, I'd have to say eccletic. If by eccletic you mean--assembled together at random from donations from family and friends. LOL
It's a beautiful Spring day. Warm, sunny…and you have the afternoon completely free…what do you want to do?
Pick up my neice or nephew and take them to the zoo or the park. Do the walking trail at the park--jogging or walking or both. Cook hamburgers and hot dogs on the grill, eat out on the deck while enjoying an IBC Black Cherry Soda. Sit on the deck or under a tree at said park with a good book and my sunglasses on, just enjoying the day.
Spread the spirit of blogaloha…whom should we visit this week?
Drop by and visit my fellow

Dr Who

fan Sarah at
Woman of Smoke and Dust
.
Friday's Feast
Appetizer - What is a symbol that inspires you?
The American flag.
Soup - Name something (either serious or funny) that has happened in your life that you would consider a miracle.
Better than just talking about them, here's a picture of two of the many miracles in my life. My niece, Gracelyn, and my nephew, Davis.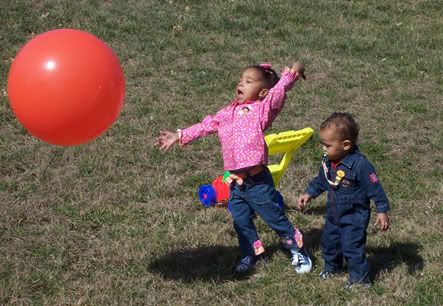 Salad - How do you handle criticism?
Depends on who is giving me the criticism. I generally try to take it as a potential learning experience to learn how to better myself. But again, it depends on who is giving it to me. If it's someone I know, respect and trust then I take it pretty well. If it's the idiot guy at the pool who complains that everyone splashes too much because he gets a drop of water on him while in the pool, I tend to dismiss it.
Main Course - Complete this sentence: I feel alone when...
I look at other people in happy, healthy, stable relationships and wonder--why not me?
Dessert - Name one TV show you wouldn't want to be caught dead watching
Fear Factor.
posted by
Michael Hickerson
at
4/08/2005 10:02:00 AM
|
|