A female librarian, Desiree Goodwin, at the Harvard has filed a suit against the University, alleging that she was discriminated against because "she is black, female and dresses too sexily."
In the suit, Goodwin alleges that she has been passed over from promotion 16 times in the past several years, all by people who are "less qualified" than she is.
An article
in the
The Boston Globe
says the following.
In her lawsuit, Goodwin alleges that in December 2001, a female supervisor told
her she'd never be promoted at Harvard because she was viewed as a ''pretty
girl" who wore ''sexy outfits," including low-cut blouses and tight clothing

Thanks to local talk show host, Steve Gill, we have to pictures of Ms. Goodwin. This morning, Gill was asking people to go to his web site and decide if Goodwin was "too hot for Harvard."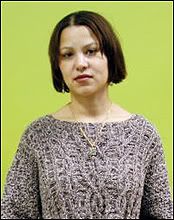 Looking at these photos, I'm going to assume that these are not the types of outfits that caused the suit in question.
What I am curious about it are there any photos out there of what she allegedly wore to work and that caused her to get passed over for promotion? No, I'm not curious just because I want to see a hot woman on the Internet. Heaven only knows that if I wanted to see an attractive woman in revealing clothing, I could just surf over to a myriad of web sites. No, what I'm curious about is were the clothes a reflection of her attitude or her professional perception. Having done the whole job search thing in the past year, I know that what you wear to an interview can say just as much or more about you than the words on your resume or the answer you give to the interview questions. Or was there a dress code within the system that she chose to ignore or perhaps tried to push the limits of? There are ways for men and women to be both fashionable and professional in the attire they wear to the office. But it can sometimes be a fine line.
posted by
Michael Hickerson
at
3/30/2005 09:54:00 AM
|
|