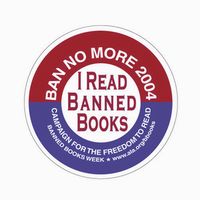 September 25-October 2 is
Read a Banned Book Week
, sponsored by the American Library Assocation. Cathy over at
Domestic Pyschology
has
issued a challenge
for everyone to read a
banned book
during this week.
Reading over the list of books that are banned, my big questions is--why? OK, I can see that going down the list, there is something to be said for making sure that children are at the approriate age level before reading a book on the list (I wouldn't want a five-year-old reading
The Shining
, for example). But I don't see the wisdom in banning anyone from reading a book, provided they are mature enough to do so. (Well, except maybe
Lord of the Flies
but I just hated that novel when I had to read it in high school!).
Honestly, I think it goes back to a general laziness on the part of parents and educators. These groups get so focused on one small aspect of the book that they miss the big picture. I've read all the
Harry Potter
books and I get really kind of irritated with some groups that want to ban them becuase they have witchcraft as part of the story. These groups claim children will learn witchcraft from these stories and be corrupted by it. Well, you know if J.K. Rowling was including detailed steps on how to conjure these spells up, you might have a point here. But she's not. I no more learned how to cast spells from reading
Harry Potter
than I learned how to time travel from watching
Doctor Who
or how to create a warp engine from watching
Star Trek
. The central story of
Harry Potter
is good vs evil and the choices made in life in that struggle. Witchcraft and wizardy is part of the setting, the world-building of the story. Just like Middle Earth is part of the world building and setitng for the Lord of the Rings novels.
But there are so many parents and groups that would choose to ban these books rather than seeing it as an opportunity. Heaven forbid you sit down with the kids and discuss the books. You could read the book together and maybe talk about things such as, even though
Harry Potter
features wizardry, we know that isn't real. Here's what we believe as Christians and as a family.
I guess I'm fortunate in a way. My parents always encouraged me to read. In fact, when I was much younger, I picked up my first Stephen King novel,
Firestarter
from the young adult area of the library. My mother told me that she'd read it and there might be stuff in there I'd wonder about. If I did, I could come talk to her....about that book or any book I read. I wasn't told to stop reading it neither was the book taken away. I was an appropriate age and maturity level to read it and my mother and father kept the communications doorway open to me should I want or need to talk to them. Honestly, I think this whole banning of the books thing makes the idea of reading it far more interesting. Let's see what's in there that everyone is so afraid of, you say to yourself.
So, celebrate your freedom. Head to your local library or bookstore and pick up a book from the list. I know I'm off to my library to find a book on this list and celebrate the freedom not only to read the books but to make the decision on whether or not I should.
Oh yeah--and I won't be picking up
Lord of the Flies
...
posted by
Michael Hickerson
at
9/22/2004 10:10:00 AM
|
|