This was forwarded to me this morning via e-mail. To me, this says a lot about the man we have leading our country.
Just a shame the mainstream media won't cover this, instead choosing to vilify Bush and push forward their own agenda of negativity....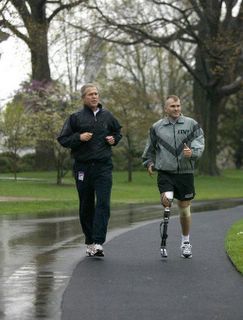 "Above is a picture of Mike McNaughton of Denham Springs, LA. He stepped on a land mine in Afghanistan Christmas 2002. President Bush came to visit the wounded in the hospital. He told Mike that when he could run a mile that they would go on a run together. True to his word, he called Mike every month or so to see how he was doing. Well, last week they went on the run, 1 mile with the president. Not something you'll see in the news, but seeing the president taking the time to say thank you to the wounded and to give hope to one of my best friends was one of the greatest/best things I have seen in my life. It almost sounds like a corny email chain letter, but God bless him".
posted by
Michael Hickerson
at
2/02/2005 09:43:00 AM
|
|